NEWS: Appeal For Missing Taonga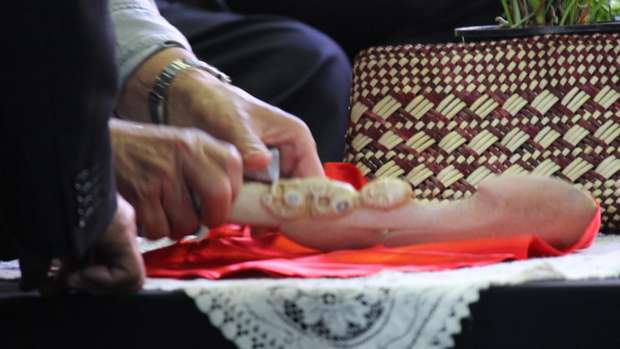 Te Tatau o Te Arawa and Rotorua Lakes Council are making a joint plea for the return of a short handled club or patu parāoa, which symbolises the partnership between Te Arawa and the council, missing from the Council Chamber.
Council discovered last week that the whale bone taonga was not in its display case. A thorough search was conducted, security footage was checked and anyone who may have removed it for safekeeping was contacted but the patu has not been found.
Council and Te Tatau o Te Arawa are very disappointed it is missing and are pleading for its return or information about its whereabouts.
"We are appealing to anyone with information about its whereabouts to contact council or if it's in your possession, please return it," says Rotorua Mayor, Steve Chadwick.
"Its value isn't monetary but it is a symbol of our historic new partnership with Te Arawa and that makes it very valuable to us and to Te Tatau o Te Arawa who gifted it to council."
Te Tatau o Te Arawa chair, Te Taru White, described the patu as a sacred and significant treasure of the people of Te Arawa.
"Its value is not monetary but it has huge spiritual and cultural significance.  It was a gift to the council and the wider community as a symbol of partnership, hope and prosperity.  This taonga has no worth to whoever has taken it and we plead to their conscience for its return," he says.
The patu was housed in a perspex display case on a plinth in the chamber. Since being gifted to council it has been used several times during official ceremonies such as pōhiri.
The last confirmed sighting of it, via video footage taken of the final council meeting for 2016, was on the 15th of December.
"We cannot be 100 per cent certain when it disappeared from its cabinet, but, we are pleading to anyone who knows where it is to come forward," says Mrs Chadwick.
"It has been difficult having to tell our members, whānau, iwi and the patu's carver that it has disappeared, given its purpose is to hold the life force or spiritual essence of our partnership with council.  It also recognised the tireless efforts by the late Mauriora Kingi, who was instrumental in the forming of this union and to whom it's dedicated."
"We are hopeful this taonga will find its way safely back to us," says Mr White.
Police have been informed.