Ed Sheeran is returning to New Zealand for his ÷ World Tour!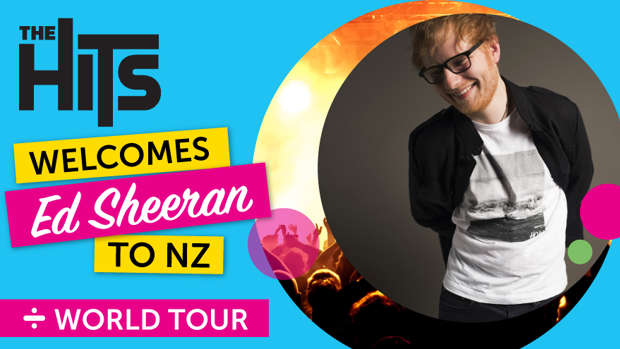 DUE TO OVERWHELMING DEMAND NEW STADIUM SHOWS ANNOUNCED!
Ed Sheeran's love of New Zealand has been reciprocated with hundreds of thousands snapping up the entire pre-sale allocations for his Australasian tour dates. His 2018 stadium tour is fast shaping up to be one of the biggest in Australasian touring history.
To meet the overwhelming demand Frontier Touring is happy to announce additional shows as follows:
Monday 26 March – Auckland, Mt Smart Stadium
Saturday 31 March – Dunedin, Forsyth Barr Stadium
The addition of these new shows will double Ed's originally announced stadium concerts. This announcement sees Sheeran becoming the joint title-holder of the most stadium shows on a single Australian and New Zealand tour, sharing the record with AC/DC's 2010 tour.
Ed Sheeran said today "I'm overwhelmed with the response, to match that record is very humbling. I really can't wait to get down there."
Michael Gudinski, head of Frontier Touring said "Ed smashed ABBA's long standing record in Australia for the most weeks at number one, with Shape Of You and now he's matched the biggest record in touring.  He just continues to amaze me as a singer, as a songwriter, as a performer and as a good mate."
Tickets for ALL concert dates and in ALL price categories will be available in the general public on-sale on Tuesday 23 May.
Two Grammy Awards, six billion YouTube views, 70 million online followers, hundreds of thousands of tickets sold across four Australian and New Zealand tours, and a firm foothold on the top of our album and single charts: Ed Sheeran needs no introduction.
The Hits and Frontier Touring are delighted to welcome one of the biggest names in music back to his adopted home for stadium shows across Australia and New Zealand next March as part of his ÷ World Tour.
The tour has already weaved its way through Europe and the United Kingdom, with extensive dates in Latin and North America scheduled before Sheeran returns to our shores:
'There's seemingly no stopping this musical phenomenon' – ★★★★ The Standard

'A triumphant evening, showcasing a consummate performer in his pop prime.' - ★★★★ The Telegraph
'The current king of the charts could do no wrong on Saturday night as he left the Manchester crowd with no voices, but on a definite high' – ★★★★ Manchester Evening News
Touring in celebration of his record-breaking and chart-topping third studio album ÷ (pronounced 'divide', out now through Warner Music), Sheeran will perform completely unaccompanied, joined on stage by just a guitar and effect pedals. The pull of this one-man band is an incredible experience to witness; layers of harmonies, rhythms and guitar parts cast out to a crowd of thousands who sing every lyric straight back to Sheeran.
'Sheeran's epic stage performances mirror his music and his life. He is a man alone, in control and vivified by the connections his songs make with his people.' - GQ
Our first taste of ÷ came in the form of the singles 'Shape Of You' and 'Castle On The Hill' that broke Spotify's one-day streaming record with a combined 13 million streams in just 24 hours, and debuted at #1 and #2 on the ARIA Singles Chart – the first time this has been achieved in the history of the Australian charts.
The album ÷ and its singles have broken global streaming records and chart records in Australia: all sixteen tracks from the deluxe version of ÷ have charted in the ARIA Top 40, ÷ sits atop the ARIA Albums Chart for its seventh week while 'Shape Of You' recently notched up a record-breaking fourteenth week at #1 on the ARIA Singles Chart.
There's no denying the strong and long-running connection between Sheeran and Australia and New Zealand; his debut shows in 2012 sold out in just minutes, sophomore album x was Australia's biggest-selling album in 2014 and in the following year Sheeran became the first artist to embark on national arena and stadium tours completely solo.
From theatres to stadiums, Sheeran has sold out every single show on his four tours of our shores and the ÷ World Tour is sure to follow suit. Tickets go on sale from Tuesday 23 May – act quick to secure yours!
ED SHEERAN
÷ WORLD TOUR
MARCH 2018

GENERAL PUBLIC ON SALE
Begins: Tue 23 May (see timings below)

New Zealand:

Saturday 24 March - SOLD OUT!
Mt Smart Stadium | Auckland, NZ (All Ages)
On sale: Tue 23 May (1pm local time)
ticketmaster.co.nz | Ph: 0800 111 999
Sunday 25 March - SOLD OUT!
Mt Smart Stadium | Auckland, NZ (All Ages)
On sale: Tue 23 May (1pm local time)
ticketmaster.co.nz | Ph: 0800 111 999
Monday 26 March
Mt Smart Stadium | Auckland, NZ (All Ages)
On sale: Tue 23 May (1pm local time)
ticketmaster.co.nz | Ph: 0800 111 999
Thursday 29 March
Forsyth Barr Stadium | Dunedin, NZ (All Ages)
On sale: Tue 23 May (2pm local time)
ticketmaster.co.nz | Ph: 0800 111 999
Saturday 31 March
Forsyth Barr Stadium | Dunedin, NZ (All Ages)
On sale: Tue 23 May (2pm local time)
ticketmaster.co.nz | Ph: 0800 111 999