The Hits Presents: The Jim Henson Retrospectacle
Publish Date

Thursday, 1 February 2018, 6:00AM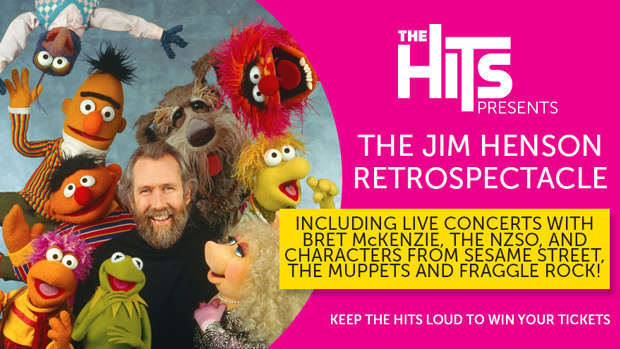 Wellington is to host a world-first three-week Jim Henson Retrospectacle in April 2018!
The event culminates in a celebration concert with Bret McKenzie, the New Zealand Symphony Orchestra, and Jim Henson's characters from Sesame Street, The Muppets and Fraggle Rock.
The 21-day showcase of events paying tribute to Jim Henson, one of the world's most creative, prolific and innovative film and puppetry artists, will take place in Wellington, New Zealand. A film fortnight series, workshops and master classes, with visiting puppeteers and colleagues of Jim Henson, will run as part of the full Retrospectacle. The programme concludes with a special NZSO concert featuring Oscar-winning songwriter Bret McKenzie– with special appearances by some of Jim Henson's much-loved characters.
The concert will take place during the final weekend with live concert performances at the Michael Fowler Centre—on Friday 27 April and Saturday 28 April 2018—will coincide with the school holidays.
"At its heart, the Jim Henson Retrospectacle is a loving tribute to the power of creative spirit and collaboration. This is a rare opportunity to marvel at the scope and huge appeal of Jim Henson's work for its groundbreaking artistry; to see much-loved characters live on stage with Bret McKenzie and the NZSO; to go deep into Jim Henson's extensive and brilliant early works; to look closely at Jim's life, partnerships and life-affirming inspirations; and to consider the impact of his unique imagination and outlook within New Zealand's own creative community," says Square Eyes Film Foundation Director Nic Marshall.
Many of Jim Henson's beloved characters from Sesame Street, The Muppet Show, and Fraggle Rock will be in attendance, thanks to a partnership with Square Eyes Film Foundation and the Jim Henson Legacy, and with support from The Jim Henson Company, Sesame Workshop and The Muppets Studio.
The 21-day Wellington-only Jim Henson Retrospectacle events have been made possible with generous support from the Major Events Development Fund, WREDA and Wellington City Council. 
WREDA has worked with Square Eyes Film Foundation to help bring the show to Wellington as part of the organisation's goal to supercharge the region's already exciting events calendar.
'This is going to be bags of fun starring one of Wellington's favourite sons in Bret McKenzie, New Zealand's own symphony orchestra and of course some of the world's greatest comical characters of the last 40 years. It'll attract visitors from all around New Zealand, Australia. We're also expecting some hardcore Muppet fans to travel from further afield as well....to whom we offer a welcoming 'Mahna Mahna'," says WREDA's Interim CEO Derek Fry.
"We're delighted to host Jim Henson's creative family here in New Zealand's creative capital. I'm sure the artistry and innovation so evident in all Jim Henson's work will be warmly embraced in Wellington," says Wellington Mayor Justin Lester.
Rare footage from deep within the Henson archives, experimental short films and commercials, classic feature films, and a New Zealand premiere to be announced next week, will screen over a fortnight at the Embassy Theatre. International guests will introduce a number of the screenings.
"We're really thrilled to share the power of Jim's art, his imagination and his positive view of life with a New Zealand audience. We have been working in partnership with Square Eyes Film Foundation for a very long time to bring this all together and are so happy it's finally happening." says Craig Shemin, president of the Jim Henson Legacy and Muppet Historian.
Te Papa will host Behind the Seams panels, workshops and master classes by Henson alumni including Bonnie Erickson, puppet designer, whose most notable creations include Miss Piggy and Statler and Waldorf; and veteran Muppet Performer Dave Goelz who for four decades has been bringing to life such Muppet characters as the Great Gonzo, Dr. Bunsen Honeydew and the Electric Mayhem's sax player, Zoot, with participation from Weta Workshop artists.
"Today, as ever, Jim Henson's creations and filmmaking continue to bring great happiness to adults and children alike. Weta Workshop has a strong association with the work of Jim Henson and I feel a particular affinity with Jim's artistic outlook and vision, as he has been inspirational in our collective careers here at Weta Workshop. Jim's visionary fantasy films The Dark Crystal and Labyrinth have earned their place in cinematic history as must-see classics of their genre." says Sir Richard Taylor.
Square Eyes Film Foundation presents quality and diverse collective viewing alternatives for young and young-at-heart audiences. Square Eyes has been presenting All Ages films in partnership with the New Zealand International Film Festival since 2008.
Tickets for The Jim Henson Retrospectacle events are on sale NOW through Ticketmaster.
As part of The Jim Henson Retrospectacle meet the original designer of Miss Piggy; the performing genius behind The Great Gonzo; hear on-the-set stories from Sesame Street, The Muppet Show, The Dark Crystal, Labyrinth and Fraggle Rock - and meet today's Muppet Performers!
MEET-AND-GREET WITH BONNIE ERICKSON AND WETA WORKSHOP ARTISTS
Saturday 14 April, 3.30pm (FREE event)
Come and share your own puppet creations with Bonnie Erickson, puppet and mascot design, and builder extraordinaire. Bonnie Erickson designed, built, and named the inimitable original Miss Piggy, and is the designer responsible for many other iconic Muppets, including the cantankerous Statler and Waldorf. Bonnie and Weta Artists Ben Hawker and Jonny Fraser-Allen would love to meet you and your creations one-on-one.
THE ART OF TELEVISION PUPPETRY WITH THE SESAME STREET MUPPET PERFORMERS
Sunday 22 April, 3.30pm ($30)
Learn the secrets of bringing puppet characters to life in a presentation that talks the puppet talk and walks the puppet walk. Join the brilliant performers behind many beloved Sesame Street characters as they share how they shape puppet personalities and demonstrate performance techniques in the classic Henson style. With Matt Vogel, Eric Jacobson, Peter Linz and Carmen Osbahr. BOOK NOW
CELEBRATING JIM HENSON
Sunday 29 April, 3.30pm ($30)
Colleagues, collaborators, and friends come together to participate in a wide-ranging and intimate conversation about Jim's unique contribution to the world. The panel includes Bonnie Erickson, Arthur Novell, Karen Prell, Carmen Osbahr, Dave Goelz, and Craig Shemin. BOOK NOW
EVENTS AT PARK ROAD POST PRODUCTION
BONNIE ERICKSON: THE WOMAN BEHIND MISS PIGGY
Bonnie Erickson was a key collaborator and member of the original design team for The Muppet Show. She created crowd favourites such as Miss Piggy, and Statler and Waldorf, and multiple other characters across a range of Jim Henson productions. Bonnie will share her work across design and storytelling, discuss the impact of Jim Henson's vision across puppetry, television, film, special effects and media technologies, and share insights from her time as Creative Director for the product division of The Jim Henson Company and Children's Television Workshop.
Date: Tuesday 17 April
Time: 6.30pm
Cost: $40 + service fees
Duration: 75 mins
Venue: Park Road Post Production, 141 Park Rd, Miramar, Wgtn
Book: here