The Hits presents Hanson live in NZ!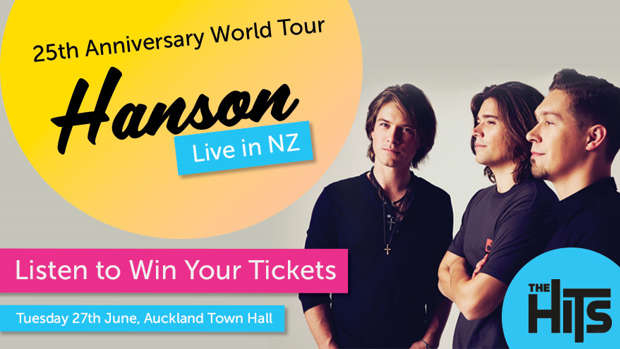 The Hits is stoked to present Hanson and their 'Middle of Everywhere' 25th Anniversary World Tour to New Zealand this June.
The band will kick off the extensive world tour on May 21st in Tulsa, Oklahoma with a headlining set at their own rapidly growing The Hop Jam Beer and Music Festival.
"Making music together for 25 years is a milestone that we had to acknowledge, and what better way to do it than an anniversary tour," said keyboardist Taylor Hanson. Added guitarist Isaac Hanson, "This year is not only about the two decades of music, it's about celebrating the incredible community of fans who have been with us, singing along year after year".
In addition to HANSON's 25th Anniversary, 2017 is the 20th Anniversary of the band's debut release Middle Of Nowhere, led by the iconic global smash hit 'Mmmbop'.
This June, New Zealand music lovers will be treated to feature performances of the group's best-known material alongside fan favourites spanning their extensive catalogue.
Coinciding with their benchmark 25th year together, over which the group has released six studio albums and sold over 16 million albums, later this year, the band has confirmed they will release Middle Of Everywhere - The Greatest Hits, a comprehensive collection which includes hit singles "Mmmbop", "Where's The Love", "Weird ", "This Time Around", "If Only", "Penny And Me", "Thinking 'Bout Somethin'", "Get The Girl Back", plus their brand new single "I Was Born".
Founded in 1992, the trio of brothers began performing classic rock 'n roll and soul music, and writing original material, crafting a unique blend of harmonies and organic soulful pop-rock. The group took the world by storm with their debut major release in 1997, ushering in a string of US top 40 singles and establishing them as one of the world's leading music artists.
TICKETS ARE  ON SALE NOW!
HANSON | MIDDLE OF EVERYWHERE 2017 NEW ZEALAND TOUR DATE
Tuesday 27th June – Auckland Town Hall
www.Ticketmaster.co.nz