Sarah Sam and Toni's Mid-Winter Pineapple Party with Dole!
Publish Date

Wednesday, 30 May 2018, 10:58AM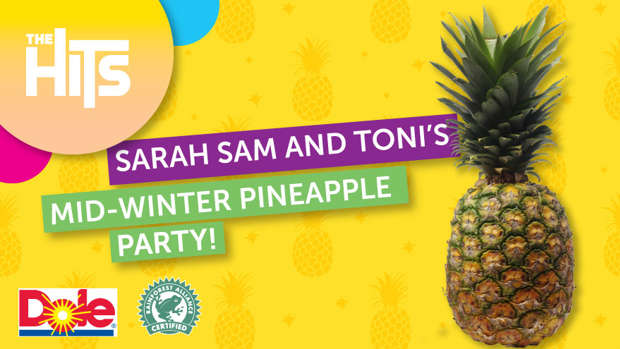 Sarah Sam and Toni are throwing a Mid-Winter Pineapple Party with Dole to celebrate International Pineapple Day and we want YOU to be part of it! Tell us below what tropical or Pineapple themed object you would bring along to our Dole Mid-Winter Pineapple Party and we could be sending you an invite for you and a friend!
It'll be a night of delicious Pineapple themed food and beverages. PLUS everyone who comes along will receive a 'pineapple pass' on entry which puts them in the draw to win a holiday to any tropical destination in the world! Where would you go?!
International Pineapple day is on Wednesday 27th June – make sure  you get involved and enter below to come along to our party!
Dole pineapples can be purchased at New World and Pak N Save supermarkets and independent shops.
Fun facts on Pineapples!
The greatest myth of all about Pineapples… they don't grow on a tree. Most people think this prickly fruit hangs on a tree like a coconut, Nope!
These plants are so ambitious in their growth (pineapples regenerate) that if you cut the fruit off one stalk, it grows multiple more stalk called 'suckers' to produce more fruit! More than one pineapple per plant, that's amazing! 
Pineapples have many uses, from a stand-alone treat, to producing a tasty fruit beverage full of vitamin C. If you're the sort who likes a rich tropical beverage to cool you down on a hot day, then the Pineapple is half of the perfect solution, the Pina Colada…(And getting caught in the rain).
Dole Pineapples are Rainforest Alliance certified (little green frog emblem) which means the company sources its fresh fruit products from Rainforest Alliance Certified plantations.
Dole New Zealand sources its pineapples from pineapple plantations based in the Philippines.
Enter below now to join us at our Mid-Winter Pineapple Party with Dole!
View terms and conditions here