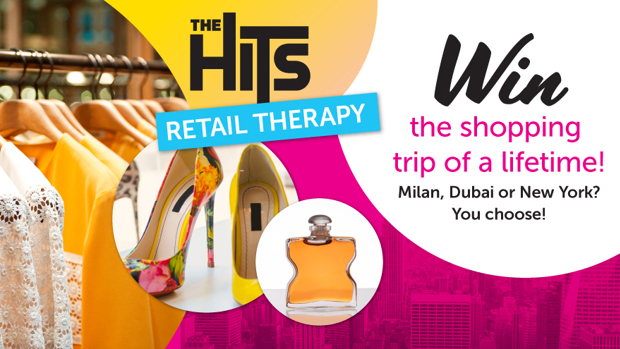 The Hits has your chance to win a shopping trip of a lifetime! 
New York, Dubai or Milan - you choose! 
Tune into The Hits across the entire weekday and listen out for the 'Retail Therapy' cue to call! When you hear it, call in to be placed into the grand prize draw - it's that easy! 
The grand prize winner will be able to choose from one of the below packages:
The Big Apple of Shopping – New York
Return flights for 2 to New York, USA
5 nights' accommodation with breakfast daily
Central Park bike rental for the day including helmet, bike lock, map and basket for 2
A quintessential New York dining experience with a picnic for 2 in Central Park
A 3-hour fashion and shopping tour of New York City and Fifth Avenue's best boutiques including a clothing makeover session and shopping with a professional stylist for 2
$1000NZD Shopping money
Plus, to make things easier, an extra piece of airline luggage per person to bring back all of your shopping!
Buy Buy Buy in Dubai
Return flights for 2 to Dubai, UAE
5 nights' accommodation with breakfast daily
A half day culture and shopping tour for 2. Experience the Arabian culture, history and shopping in traditional souks.
For something a little less traditional, enjoy a private tour for 2 which takes you to the right shopping malls and markets, based on your interests. Dubai has approximately twenty major shopping malls. The emphasis is on high fashion, gold and jewellery, carpets and handicrafts.
A luxurious High Tea by the window for 2. The highest tea you will have as it's up the famous Burj Khalifa Tower
A luxury desert experience for 2 with dinner, Emirati Activities and vintage Land Rover transport
Your tour includes the following:
Hotel pickup and drop-off
Wildlife Safari through the Dubai Desert Conservation Reserve
Henna Artist Camel rides
Live bread and coffee making
Dinner
Emirati entertainment
Donation to Dubai Desert Conservation Reserve
Sparkling date juice
$1500NZD Shopping money
Fashion Capital Shopping - Milan
Return flights for 2 to Milan, Italy
5 nights' accommodation with daily breakfast
A private guided fashion tour through the most exclusive clothing and beauty stores in Milan. A full day itinerary including:
Your own personal shopper
Private transport
Lunch at exclusive restaurant
$1500 NZD Shopping money
Listen to The Hits each weekday for your chance to win with The Hits Retail Therapy!