BLOG: Cutting Shapes on Marine Parade
Publish Date

Tuesday, 3 March 2015, 12:40PM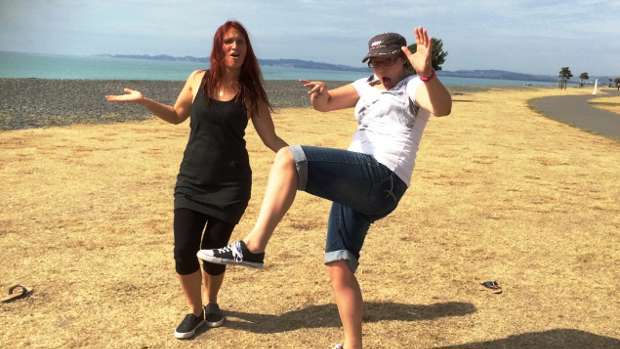 When we started talking about our latest competition on air, we didn't think it would lead to Sarah showing off her dance moves Marine Parade. But that is exactly what has happened. 
Over the past few weeks, we've been asking people all over New Zealand to submit a 30 second video of their best dance moves to go in the draw to win a trip to The Ellen DeGeneres Show in Los Angeles. Our first winner was drawn on Friday out of thousands of contestants, and is none other than Keri McKenzie from Rissington. 
Keri and her fiancé will soon be jetting their way to America and getting their groove on whilst in the audience of the incredibly popular show.  Winning this competition has made Keri world famous in Hawke's Bay (and particularly Patoka where she was congratulated over the loud speaker at the school swimming sports) and she certainly has the moves to fit right in with the audience on Ellen. But does Sarah? 
That was the question posed this week when Sarah's bosses challenged her to not only dance with Keri but have a bit of a battle as well.  Whilst it wasn't an absolute disaster (as in, no one was injured while Sarah's arms and legs were flailing about) it certainly wasn't pretty.  Sarah demonstrated a fine array of moves including the "sprinkler", the "shopping trolley" and the "butter churn".  She finished off this spectacular display of awkwardness by completing a "half twist".  A "full twist" requires that once you've twisted to the ground, you twist back up again. 
Once Sarah twisted to the ground, she promptly toppled over, hence the "half twist". It probably would have been better if she'd learned the "elevator dance". There are no steps to that.  If you're not easily offended by the sight of limbs everywhere and a severe lack of control, then you should check out the video for yourself on our Facebook page. It's certainly good for a giggle. 
And if you're keen to join Keri at The Ellen DeGeneres show, then you better dust off your best moves and submit your video via thehits.co.nz
We have another trip to give away on Friday!