Column: Herb's Halftime Glory
Publish Date

Thursday, 7 April 2016, 10:21AM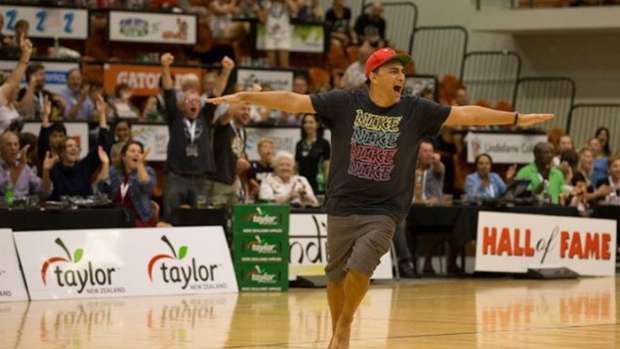 It hasn't been a great start to the season for our Indigo Hawks losing their fifth home game on the weekend to the Southland Sharks.
But they're putting on a great show for the crowds who are able to see the boys play every home game for just a gold coin donation thanks to sponsorship from Taylor Corp.
Even though the Hawks lost the game, there was one big winner and that was local man Herb Nicoll.
Through our online competition Herb won the chance to shoot from halfway for $1000 cash from Stephen Hill Motors. We caught up with Herb this week and he confessed to being quite nervous as he stepped on court to take the shot. He and his wife run a youth group and spend a fair amount of time on the basketball court seeing how far they can shoot hoops from and it would seem that practice paid off.
Herb knew his arms didn't quite have the power to get the ball to the basket from that distance so in a spectacular Happy Gilmore fashion, Herb did a run up to the halfway mark, released the ball and it went in! Obviously Herb is feeling pretty chuffed with his effort and is planning to put the money towards his 10 year wedding anniversary this June.
Was it just plain good luck or does positive thinking have a part to play? I certainly believe the latter.
A couple of years ago I heard the members draw at the Hastings RSA was up to $3000 and had to be won that Friday night. I was convinced that money was mine. All week I told people my name was going to be pulled out and got into a slightly heated debate with a man as we paid our $2 entry over which of us was going to be the winner. It could easily have been neither of us and almost was. Four names were pulled out but none were present so not able to claim their prize.
The fifth name was mine. I believed I was going to win and it happened! I have been trying the same thing with Lotto ever since and sadly it hasn't won me more than a free line of Strike.
But it's not just about winning money. It's about getting what you want. It's worked for me in all different areas of my life. It worked for Herb on Sunday night. And it could work for you too.
As the old saying goes, "Whether you think you can or think you can't, you're right."