Brodie Kane reveals why you shouldn't attempt a 'goose-step' in stilettos ...
Publish Date

Wednesday, 17 October 2018, 10:00AM
Brodie Kane has learnt an important lesson … Never attempt a goose-step in stilettos!
While hosting the Canterbury Rugby Awards Brodie made a bold move to try to get the lacklustre crowd energised. During a Q and A with Inoke Rasabale – whose signature move is a goose-step - she asked how he did a goose-step kick, and then she tried to attempt it herself …
Unfortunately, she explained to Fitzy this morning on air, that move doesn't work so well when you're wearing high heels.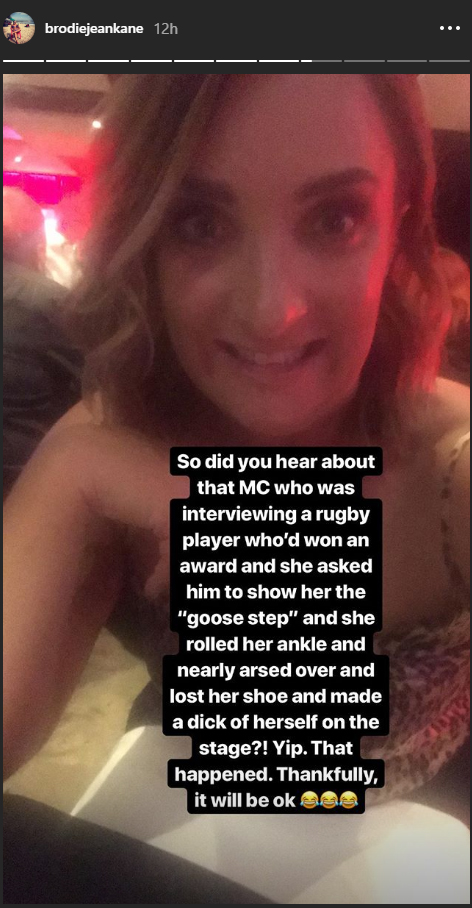 "As I kick on the right foot, the left one goes over on the ankle," Brodie said, "and the shoe completely comes off, flips forward about a metre."
"I sort of half a** over, so you can imagine, almost like a ballerina but not, tipped over, rolled, shoe fell off, Lesley sort of had to catch me on stage in front of 250 people," Brodie continued.
"I think the shame and embarrassment was quickly surpassed by the sheer relief that I hadn't actually injured myself and ruined my chances to run this marathon."
As it turns out Brodie has been training for the last eight months for the Auckland Marathon, taking place next weekend.
So we're extra relieved as well that you're not injured, Brodie!
Listen to Brodie tell the full story below: