Holiday Hacks with Elite Trailers
Publish Date

Tuesday, 12 November 2019, 9:51AM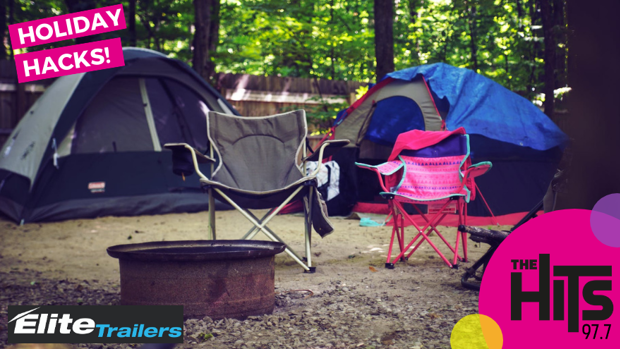 Heading away on a family summer roadie sounds great in theory, but we know there are a lot of things that can go wrong; your phone's died, the kids have had way too much sugar, and to make matters worse... you've forgotten the pump for the air mattress.
Lucky for you, we recently put the call out to our listeners to find the best Holiday Hacks - just in time for your next family holiday.
Check out some of our top picks here:
Before going to sleep at night when camping, boil the kettle and fill up a thermos flask. In the morning it will still be steaming hot - you can use it for a cuppa first thing in the morning and don't have to wait for the kettle to boil!
Doritos make fantastic kindling when lighting a camp fire!
Always take extra string/cord its always used to hang things like washing, lights from the roof of tent, blocking off areas, tying down stuff when windy, tying down stuff in trailer
Take and use plenty of sunscreen and insect repellent. Everything else is more fun when you're not burnt and itchy!
Take your spare wheel out of the wheel well, use this space to pack items. Then put your spare wheel into the car or onto the trailer last so you don't need to unpack and repack everything on the side of the road, if you get a flat tyre. Don't forget to have the tools you'll need easily accessible too.
To prevent shampoo bottles or similar from leaking in your toilet bag, take the cap off the bottle and cover it in glad wrap. Then screw the cap back on. The glad wrap forms a seal on the inside of the cap and prevents leakage. You can also pre-aliquot toothpaste, by measuring it out onto tin foil and leaving it to dry. You can then pop the dried toothpaste in a container and it re-hydrates immediately when you brush your teeth. Way better than toothpaste squeezed all through your toilet bag.
Cable ties. Used to fix anything...broken belt? Make a new one with cable ties...fairy lights not staying up use cable ties...don't want stale chips cable tie around the packet! Many many more uses and definitely a must.
If you have a long drive ahead of you and want the window down but also want something to rest your arm on this is the hack for you. Cut a Warehouse pool noodle into four pieces, you now have attachable foam armrests for the whole carload. Holiday hero!
A cardboard box makes an excellent table when camping!! Then when you're done with it you can collapse it, fill it with stuff or just recycle it and go home! Packs down way smaller than any camping table, and is much cheaper
Putting a silver survival blanket under the air bed helps to keep the cold and damp from rising through the air bed and helps to keep the heat in that is generated by bodies. Was am absolute break through when we tried it. I was always cold no matter what I wore and how many blankets we had. Did this and was so much warmer.
Take a cordless drill and long drill bit to pre drill hard ground prior to hammering in tent pegs. Makes life easy!
Use salted ice in your chilly bin it stays colder for longer
Hanging Shoe Organizers can be used to keep random kitchen supplies or toiletry items organized and in one spot. Then just hang it in the tent or on a shaded structure for easy access.
If you plan on heading away these holidays, pop in and see the team at Elite Trailers and talk to the team about purchasing one of their versatile camping trailers for your family!