Far North crash survivor wants Chinese driver's passport confiscated until police investigation over
Publish Date

Tuesday, 17 April 2018, 11:00AM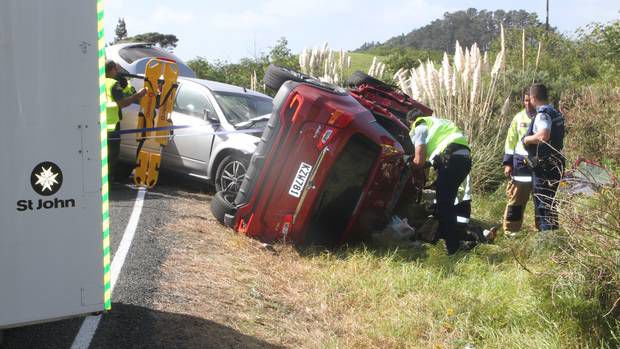 A Far North man injured in a head-on collision with tourists is calling for the visitors' passports to be confiscated while police investigate the accident.
Peter Birchall, his wife Xiaoli, who remains in hospital, and a friend were injured when a rental Mitsubishi car driven by a Chinese tourist, also with two passengers, and Mr Birchall's Nissan Murano collided head on.
The two vehicles collided on West Coast Rd at Waipapakauri, north of Kaitaia, just before 12pm on Friday. Police are investigating the collision and are yet to lay charges.
Mr Birchall was heading west in fine, dry conditions when, he said, an oncoming Mitsubishi came over a hill toward him, in his lane. He said he veered left to avoid the Mitsubishi, but the other vehicle tracked in the same direction and they collided two to three metres to the side of the road.
Mrs Birchall is likely to be in Whangarei Hospital for a month after surgery for internal injuries. The couple's two small dogs were also injured and Mr Birchall predicts a "huge" vet bill after one suffered a broken pelvic bone and the other received soft tissue injuries.
Mr Birchall has told police that the offending driver should face the most serious charges possible.
"The public need to know how seriously we as a nation treat this," he said.
"I know they may not come back for any court session. They are not going anywhere at the moment (all three visitors are in hospital) so their passports should be seized. A clear message needs to be put out there."
The Birchalls' tourist business at Waipapakauri Ramp would be closed for at least three months, he added.
The car, which Mr Birchall had bought a few days before, had been well insured, but the suffering and hardship caused by the crash were grossly "unfair".
Mr Birchall said he would be asking the Professional Guide Association, of which he was a member, to take up the issue.
"As drivers and guides we often witness stupidity on the roads," he said. "I am angry, and we need to talk about it."
Meanwhile Mayor John Carter said he would be approaching Minister of Tourism Kelvin Davis and Northland MPs Matt King and Willow-Jean Prime about the need to talk to rental car companies about letting tourists drive with no preparation or screening.
For more information, check out the Northern Advocate