Northland teacher and plus-size model starts on Survivor NZ
Publish Date

Thursday, 27 April 2017, 9:15AM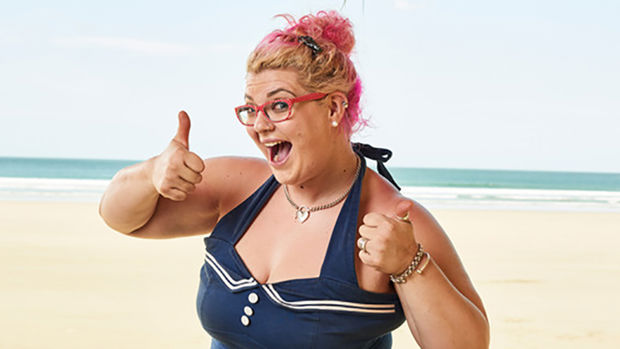 Hannah Gough says people shouldn't underestimate her because she loves wearing dresses and doing her hair.
She also plays roller derby, can lift some pretty heavy weights and is one of 16 contestants in the debut series of Survivor New Zealand.
The 27-year-old Whangarei kindergarten teacher and plus-sized model said it was her agent who told her to apply for the reality television show based in the jungle of Nicaragua.
"At first I was like 'cool, yay' really sarcastically. But then I was like 'no, I can totally do survivor let's do it'," she said.
Survivor NZ, hosted by former Seven Sharp reporter Matt Chisholm, will hit screens on May 7.
Ms Gough, who is back in Whangarei, had watched a few seasons of Survivor but when she found out she would be on the show she went on the "biggest binge Survivor mission ever" and watched every single Survivor challenge that was available on YouTube.
Through her binge watching she learned if there are any eating challenges on this season of Survivor, they may prove particularly difficult for Ms Gough.
"I was definitely terrified by watching those challenges but I'm a very determined person. I thought no matter what happens, no matter what challenge is thrown at me I don't give up. That's the attitude I need to take," she said.
Ms Gough credits that attitude to her sports - she has been playing roller derby for about four years and is also a power lifter.
"With that it's a lot of mental strength and I've got to remind myself of that because your body will give up before your mind. You can tell yourself you can do it and your body will follow."
Ms Gough said people often judge her on her appearance but she loved to prove people wrong.
"Often people look at me and think 'oh look at her she loves to have her nails done, she loves to wear dresses' which I do.
"I go from work being this cute pin-up teacher to the gym where I take off my pin up clothes still have my red lipstick on and my pearls but I put on my lifting clothes and chalk up my hands. Yes I love pretty clothes but that's only part of who I am."
Nathan Davis, a Northland policeman based in Hawkes Bay, is also a competitor on the show.
When asked if competitors were still in Nicaragua a TVNZ spokeswoman said filming wrapped up in September last year but the "game" is still in play as the winner - the "Sole Survivor" - has not yet been announced.
This article was first published on Northern Advocate and is republished here with permission.