Turtle caught in Whangarei Harbour
Publish Date

Monday, 26 March 2018, 1:03PM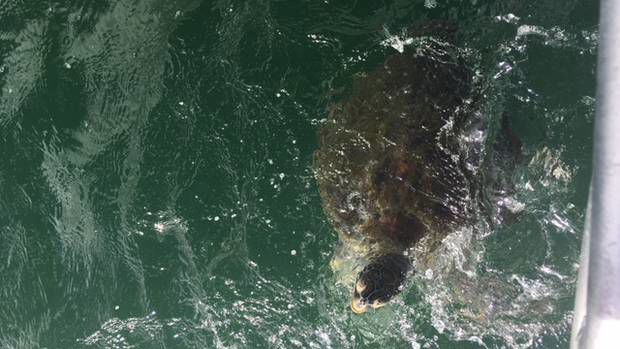 Chris Stephenson thought she had caught a stingray in Whangarei Harbour when her fishing line "took off".
The Whangarei woman was shocked to see she had "foul-hooked" a turtle on its front flipper.
She was fishing for snapper for a family gathering with her brother Steve Wilson in their 5.3 metre boat at around 4.30pm last Thursday.
They were in an area of the harbour known to locals as "Skull Creek" on the south side, opposite Waikaraka and near Takahiwai.
"I thought it was a stingray because it took off."
Mr Wilson took over reeling in the line, and moved from the stern of the boat to the bow "because it was going all over the place" and was heavy.
It was shortly after they realised the turtle was on the line.
The siblings cut the fishing line as close to the flipper as they could get, while being wary of getting bitten.
Ms Stephenson said unfortunately the hook was still in the turtle as it swam away.
"It was the last thing we wanted to happen."
She said they didn't notice any tags on the turtle, and they had never caught a turtle before.
Ms Stephenson estimated the turtle was around 60cm long.
They were not aware that two turtles had been released last week at the Poor Knights Islands.
Local fishing expert Mike Burgin said it was not uncommon for turtles to be in the harbour and thought they would be feeding in the shallow water.
He had heard of turtles being hooked but said a greater danger to their survival was plastic bags, which they either became tangled in or ate.
He expected the turtle that was caught by Mr Stephenson would be fine.