Beach Clean-Up Sees Hundreds Scour The Shore
Publish Date

Monday, 30 November 2015, 3:13PM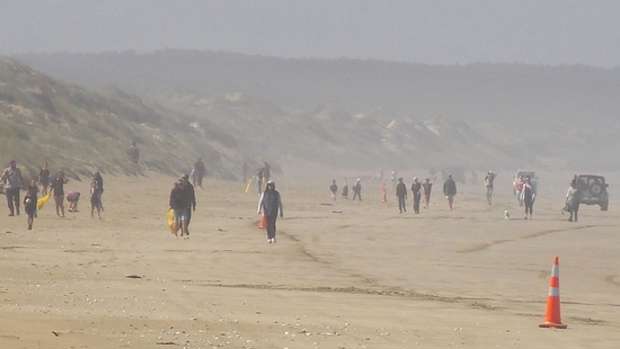 A clean-up on Ninety Mile Beach brought hundreds of people together and succeeded well beyond organisers' expectations, with more than a tonne of trash collected.
The idea was the brainchild of Kaitaia woman Materoa Blair, who invited the community to get involved after spending hours picking up various bits of flotsam and jetsam she was finding on her daily walks with her dogs.
She estimated up to 200 people turned up thanks to a well-publicised campaign via newspapers, social media, local schools and businesses. Miss Blair admitted to feeling despair when she was woken about 5am on the day of the clean-up by thunder and lightning.
"I just about cried," she said. However, the weather soon cleared and the day turned out warm and fine. The clean-up, which started at 8am and finished just before 1pm, was a huge success, she said.
The group worked the coast from the Bluff to the Kaka St ramp in Ahipara with Miss Blair estimating a tonne of rubbish was removed from the beach. Items found included plastic, rope, water coolers, tyres and even an entire bed. Among the masses were students from Kaitaia, Awanui, Pukepoto, Te Kao, Paparore and Ngataki primary schools. Businesses, community groups, iwi organisations and entire whanau pitched in.
"It opened everyone's eyes as to how bad it is. When you drive you don't see it, but you do when you walk beside the dunes."
She planned to make the day an annual event.