Can You Lend a Hand to the Kids of Northland?
Publish Date

Thursday, 20 October 2016, 1:08PM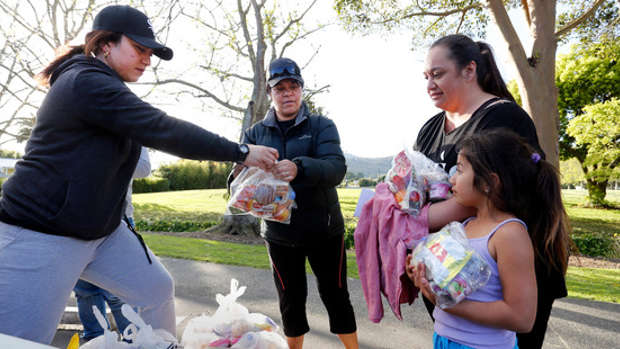 Can you lend a hand Northland or donate? This is a tough situation but good hearts are impacting Northland families!

Feed a Family Northland = Legends!
Rachael Beardsall says she and her partner have had to go without to ensure their three children do not starve.
So when she heard about a group providing school lunch packs for families in need in Whangarei, she decided to check it out. Knowing at least one day of lunches for her three children is taken care of, is a huge help.
"It makes a huge difference, you're not being judged for it - you're feeding the kids," she said.
The Raumanga mother said she and her partner were on benefits and struggled some weeks. Ms Beardsall lost her job as a cook at a rest home two years ago and despite actively job hunting, she has not found employment.
"I haven't been working ever since. I look for work, I have handed out CVs, I've applied online, to no avail. We try to maintain the vehicle, as well as gas, as well as food and it's definitely a struggle."
Feed a Family Northland, established by Dargaville woman Ani Tamaki, is a branch of an Auckland charitable trust. For the past two Mondays they have been in Whangarei giving away school lunch packs for families in need and they have been doing the same in Dargaville for the past two Tuesdays.
Ms Beardsall said Ms Tamaki and the Feed a Family Northland team were "good people".
She said she has tried to get help from other agencies in the past but there were several barriers in the way.
"Living on the benefit is hard. Food is supposed to be the first thing, but it doesn't last. If you were to go and do a one-lot shop you literally have to make sure no one eats it all, which is hard to do because the kids come home and they're hungry. We've cut back in the past, we will literally go with nothing if it means [the kids] eat."
Ms Beardsall said she spends about $120 to $160 per week on groceries - a good portion of the household income.
"If you do the shopping there's not much left. If you want to go somewhere you have to gradually work it out. If there's something wrong with the car that's a whole other problem."
But Feed a Family Northland has been a huge help, she said.
On Monday the initiative was "mobilised" and different team members headed to suburbs around the area including Smeaton Drive, Tikipunga and Onerahi to help families in need.
Ani Tamaki said people had gone "above and beyond" to help the cause.
"We set out to have 80 packs but we have an excess of that from fruit that's been put forward, bread that's been put forward, sandwiches that have been made, an overabundance." Fore more information visitwww.facebook.com/feedafamilynorthland