Can't Afford A House? Buy A Boat Like These Guys!
Publish Date

Thursday, 25 August 2016, 10:59AM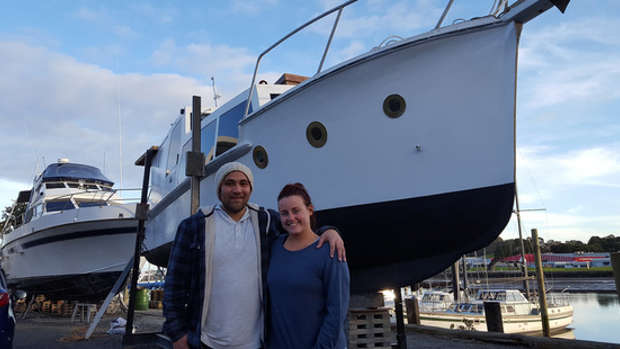 Engaged couple Jade Pumford and Reuben Mackey are about to become boat people to get into the Auckland housing market.
They want to buy a home but say the Auckland market is just "so damn crazy" and question why they should pay rent to finance someone else's retirement fund.
Pumford, 31, originally from Liverpool in England, and Mackey, who was raised in Whangarei, are ditching their landlubber lifestyle on Auckland's North Shore and going to live at sea/moored on the water in a boat at Westpark Marina at Hobsonville.
"We can halve our rent cost each year by moving on to the boat and that way a house deposit is not so out of reach," Pumford said.
A rent increase in their current home was what encouraged them to look elsewhere.
A "boatie" friend recommended a launch if they were preparing to live aboard.
So when Mackey clapped eyes on Dorina he knew he had found his boat and they paid $5000 for it.
They did the calculations and it was much cheaper to have the boat out of the water in Whangarei compared with costly Auckland boat yards.