One legged kiwi visits the children of Glenbervie School
Publish Date

Sunday, 18 October 2015, 11:13PM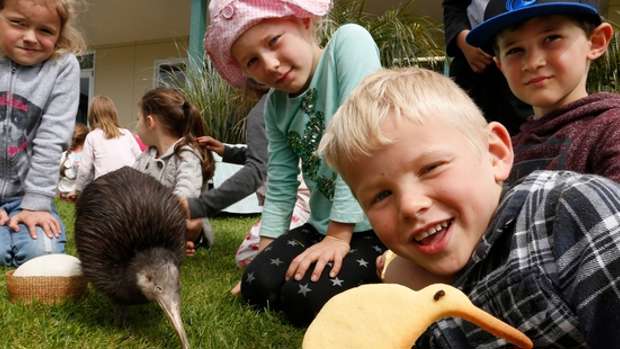 He's only a one-legged kiwi, but he's a whole bundle of excitement for anybody who meets him, and on Friday Sparky the kiwi got up close and personal with the children of Whangarei's Glenbervie School.
October is Save Kiwi Month and yesterday Robert Webb, from the Whangarei Native Bird Recovery Centre, took Sparky - the centre's resident kiwi - along to the school to help spread the kiwi conservation message. Mr Webb has hand-reared Sparky for about 14 years and the kiwi is very comfortable with human contact. He is also not on a nocturnal schedule, meaning he is comfortable going out during the day.
As a result he is the only kiwi in the country allowed to visit schools. Glenbervie principal Braden Eades said Sparky generated plenty of excitement for the children, many of whom had never seen a live kiwi before. "We've had Robert here before and he said our school was the first in the country to have a visit from a live kiwi, about 20 years ago. We've got an ex-pupil from then who is now a teacher here, as well as a teacher still here from then, and both of them remember it well," Mr Eades said. "It was a fabulous day for the children.
"We had a kiwi breakfast and we made kiwi-shaped biscuits that I think even Sparky had a nibble at." Abigail Monteith, the Department of Conservation's Partnerships Ranger, said Sparky's visit was about raising awareness about our national icon and would leave the children with lifelong memories of the day. "As Sparky's the only kiwi allowed to visit schools we are incredibly lucky to have him here in Northland to help publicise our conservation efforts," she said. Sparky allowed youngsters to experience a real live kiwi and he never failed to impress.
Kiwi are related to a group of birds called ratites. Their closest living relatives are emus and cassowaries in Australia, but also the extinct moa of New Zealand. There are about 70,000 kiwi left in all of New Zealand and about 2 per cent of kiwi are being killed every year - that equates to 27 per week.
-Northern Advocate