Pamela Anderson hooks up with Northlander
Publish Date

Friday, 16 October 2015, 12:00PM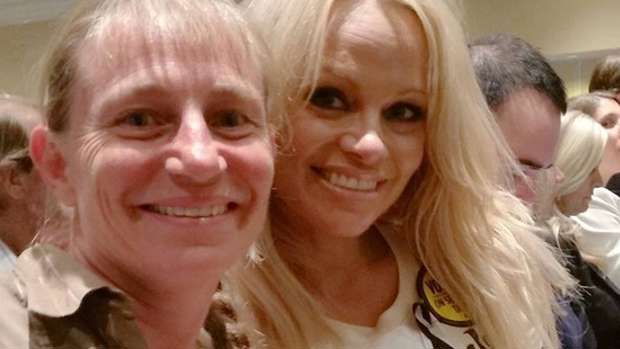 Northland orca expert Ingrid Visser was asked to leave controversial San Diego orca park Sea World last week, but found an ally in the campaign to stop the park breeding the marine mammals - animal-rights activist and celebrity Pamela Anderson. The decision to ban the American theme and marine park from breeding orca in captivity is a historic move which will have positive ripple affects across the globe, Dr Visser said.
The California Coastal Commission last week moved to ban captive whale breeding and drastically restrict the movement of whales in and out of SeaWorld's San Diego operation. They were granted permission to double the size of the orca enclosures as part of the $100-million project that SeaWorld said would enhance the habitat of the whales and improve research opportunities. Another condition was a cap of 15 whales at the San Diego attraction, which now houses 11. Tutukaka-based orca expert Dr Visser was the first of about 50 speakers, including actress and animal-rights activist Pamela Anderson, at the hearing held at Long Beach Convention Center last Friday.
During her 15 minute presentation she told the hearing it was important to separate the business rhetoric from the facts.
Dr Visser said she spoke from the heart and while the orca tanks would double in size "a prison was still a prison" and did not cater for the daily activities orca carried out in the wild. Whales in the wild swam an average distance of 222km per day and dive to depths of about 182m.
"These new tanks do not meet these basic requirements," she said. "No facility ever will." Loss of the orca shows would be a huge blow to SeaWorld, as they were the top attraction at the park. "They are a corporate business and not in this for animal welfare, they are in it to make money," Dr Visser said. The conditions did not apply to the other two SeaWorld parks in Florida and Texas. Dr Visser was impressed with Pamela Anderson and said the celebrity clearly cared about the animals. SeaWorld officials opposed the condition barring breeding, saying it would mean that the park's population of 11 whales would be the last orcas held in the park.

"A ban on breeding would sentence these animals to a slow extinction in our care,"
said John Reilly, president of SeaWorld San Diego. The day before speaking at the hearing security guards asked Dr Visser to leave San Diego's SeaWorld when they spotted her taking photos of the mammals in the tank. Dr Visser has visited all three of SeaWorld's sites and while she has been watched very closely this was the first time she had been asked to leave. "If they had nothing to hide they would be inviting us there," she said. Dr Visser and those she was with remained and watched the orca show before leaving.
- Northern Advocate