Pregnant Whangarei woman jumps off bridge to raise awareness
Publish Date

Tuesday, 22 November 2016, 2:58PM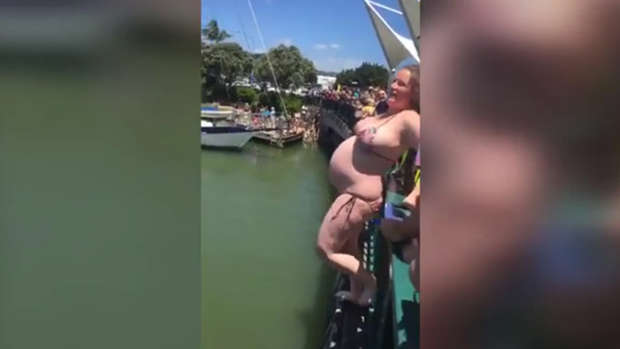 Stopping the flow of pollutants into urban Whangarei's 6000 stormwater traps and planting trees along the waterways could all help improve the water quality in the Hatea, according to a local environmentalist.
On Sunday, 38 people jumped into the Hatea for Take The Plunge, while 173 people signed a petition which would be presented to the Whangarei District and the Northland Regional Council (NRC) asking that councils maintain good water quality in the harbour.
One of the first to take the plunge was Jess White, owner of the Butter Factory, who at 37 weeks pregnant was more than happy to jump in after clearing it with her midwife and NRC testing had the site as safe to swim in.
Ms White said being heavily pregnant received a fair bit of attention so she was delighted to be able to use it to raise awareness about the harbour.
''I just think this is a really good cause. I wouldn't have done it if I wasn't sure it was safe [for her and her daughter, due on December 10]. If me being pregnant can raise awareness of the issue then that's great,'' she said.
''I think we should all be doing something about the water quality in our harbour.''
The Drains to Harbour stormwater awareness project is funded by Whangarei District Council (WDC) and educated people about what runs down the drains and enters the waterways.
"Most [water] will have travelled from the streets of Whangarei into the stormwater drains and out into the harbour, along with unseen pollutants like oil from cars, sediment and detergents," says Nicki Wakefield, co-ordinator of the Drains to Harbour stormwater awareness project.
"We're all responsible for what enters the drains and makes it way into the harbour."
To read the full story, click here.