The frog and tadpole rescue in Whangarei city fountain is underway!
Publish Date

Wednesday, 14 December 2016, 3:32PM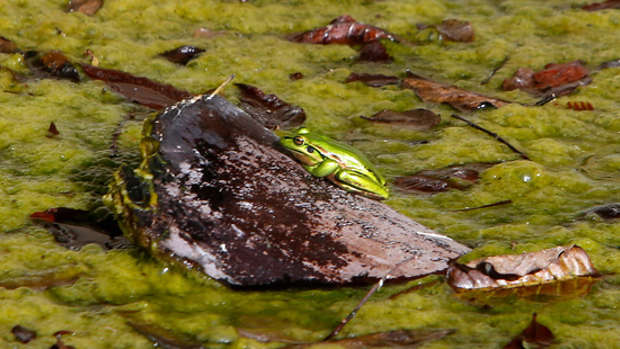 Frogs with a taste for the urban lifestyle have moved into a Whangarei city park, complicating the clean-up of an out-of-commission water fountain.
Despite Whangarei District Council's encouragement of inner-city living, contractors have moved the creatures on, as work began yesterday to repair Laurie Hall Park's waterfall fountain. Over winter it had turned into a slimy green frog heaven.
The council had planned to empty and clean the pond - which has had leaks and faults for years thanks to its archaic design - this week, before replacing the pump in January.
But the pond rose to prominence last week when local man Ricki Prime posted a video online bemoaning its "Third World" state.
The plot thickened when it was discovered that a swamp of Aussies had moved in: The reasonably common green and golden bell frogs and hundreds of tadpoles.
A rescue mission was mounted and as of yesterday afternoon, WDC recreational services contractor and coincidental frog enthusiast Nick Connop had removed four from the fountain.
He relocated them to the suburbs, Third Ave's Botanica Fernery, describing it as the "perfect" new home for them.