Cheeky shopper bares buttocks and shoves 1m tool down pants in Northland shop
Publish Date

Wednesday, 18 April 2018, 2:48PM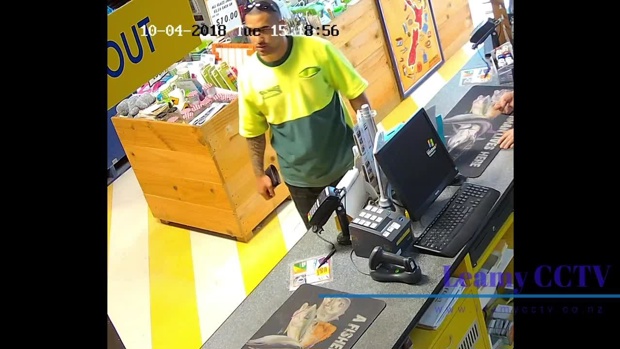 Crack up!
A Northland business owner can see the funny side of a man leaving his hardware store after baring his buttocks to shove a one-metre long tool down his pants.
"It's a total crack up isn't it,? It's a bit different," Malcolm Francis, owner of Hammer Hardware Kawakawa, says.
Two men came into Francis' Gillies St store on Tuesday, April 10 about 3.15pm.
One man pauses at the front door, opens it, and takes a drag on a cigarette, giving the security camera a clear view of his face and blue checked shirt.
Flicking the cigarette to one side, he saunters into the store and is soon seen on security camera footage talking with another man, who Francis said entered about 30 seconds later.
Both are believed to have put small gas canisters down their pants while in the store.
After the two confer, the man in the orange top speaks with front counter staff.
Francis said this was a classic warning sign.
"When someone's mouthy you look up. He had too much to say for himself, he was going on about wanting to go fishing," he said.
While the man in the orange chatted away, the man in blue, thinking he is not being watched, exposes his backside as he conceals a metre-long weed burner down the front of his pants.
But he was being watched by the cameras and another customer who thought the man was urinating in the store. That customer told him to go outside, Francis said.
Francis said the man in the blue then took another weed burner - the other still concealed in his pants - and tried to pay for it.
However, his eftpos card was declined and he left.
The man in orange had purchased fish hooks and also left.
This all happened in the space of about 5 minutes, Francis said. After they left staff checked CCTV footage, and noticed one man was walking "a bit funny".
The video was posted on Facebook yesterday afternoon in a bid to identify the men and has since had 100 shares, 8400 views and 63 comments.
Police said the incident has been reported to them. No arrests have been made yet.
Francis said the men allegedly took about $200 worth of items it would be good to get them back.