Details of new $200M hotel and entertainment centre in Whangārei revealed
Publish Date

Saturday, 28 July 2018, 8:30AM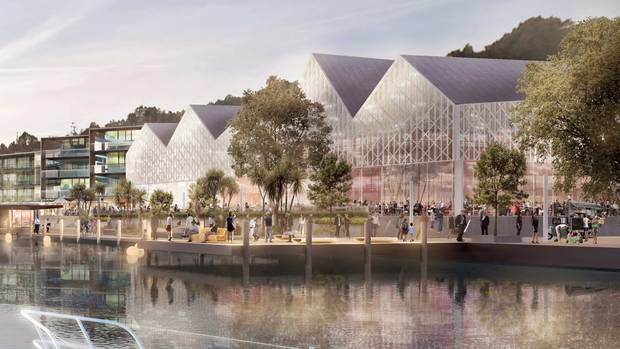 A $200 million-plus four-star, 130-room hotel and entertainment centre will be built on a prime waterfront section in Whangārei that could host up to 1000 people.
Northland Development Corporation, a group formed by local businesspeople two years ago, hopes to get the project started before the year's out and be ready for business when the Hundertwasser Art Centre opens before the end of 2020.
The hotel, entertainment centre, and apartments will be built on 12,460sq m of waterfront land along Riverside Dr, where boatsheds and light industry are currently located.
The complex is expected to provide more than 200 jobs during the construction phase and around 140-160 once it is opened.
There are also plans to ferry tourists from cruise ships that will berth at Northport from early 2021 to the new hotel precincts and other places frequented by visitors, such as the Hundertwasser Art Centre and Hihiaua peninsula.
Whangārei businessman Barry Trass, project directors Ben Tomason and Trevor Griffiths, project manager Heather Tomason, land developer Tony Jelas, and Danny de Graaf whose expertise is in land acquisition and development are behind the plan that promises to be a game changer for the city. The planned investment is worth upwards of $200m.
They have already signed up a major international hotel chain to run the hotel part of the complex and are in talks with keen investors for the other facilities.

Trass and Tomason, the corporation's spokespeople, said the group got together because they saw a need to drive the economy and to come up with a large facility that was lacking in Whangārei.
Trass said people have been talking about a top class hotel and conference centre for a long time but there has just not been an interest to establish one in Whangārei.
"Everyone's talked about Whangārei being a toilet-stop. There're a million people that drive past Whangārei with occasional fuel stops but with Hundertwasser being the main attraction, there's a lot more people going to stop and a lot more people coming specifically to see it and we haven't got good quality accommodation,'' he said.
"On top of that, we're losing a lot of opportunities with conferences and visitors coming and staying in our town, sports events and things like that. We miss out on a hell of a lot of them because we don't have the accommodation here."
Tomason said his group, in conjunction with hotel operators, looked at four sites close to central Whangārei before picking the waterfront precinct.
"This site has by far, of all the sites, got the best geotechnical properties and that allows us to build a lot cheaper and I think that's a clear differentiator from the other sites."

He said community involvement has already started and the group has already had a survey done of more than 30 individuals who overwhelmingly supported the new development.
The community, he said, would also be involved in the design of the precinct and the 
buildings.
The spokesmen acknowledged the support of Northland Inc, whose chief executive David Wilson said the total estimated economic impact of the conference centre and hotel over the first five years of operation would be $31 million.
A feasibility study undertaken by Northland Inc and New Zealand Trade and Enterprise identified a gap for higher-end hotel accommodation and conference facilities in Whangārei which has the potential to create greater year-round economic benefit, Wilson said.
"A 4-star plus hotel will complement Whangārei and Northland's existing accommodation and will support those that wish to visit tourism offerings such as the Hundertwasser Art Centre and Wairau Maori Fine Art Gallery (HAC) and Hihiaua Culture Centre," Wilson said.
Whangārei Mayor Sheryl Mai said developing the Riverside Dr site was a fabulous idea that would complement the Town Basin and Hatea Loop developments.
"It has the potential to be a great asset for our community, right in the heart of the district," Mai said.
Key facts:
* A four-star plus hotel, an entertainment centre, and apartments worth upwards of $200m;
* Driven by Northland Development Corporation on 12,460sq m of waterfront land along Riverside Dr;
* More than 200 jobs during the construction phase and around 140-160 once it opens;
* Community involvement in the design of the precinct and buildings
This article was published on The Northern Advocate