Dolphins Prevented From Entering Estuary
Publish Date

Tuesday, 24 November 2015, 2:17PM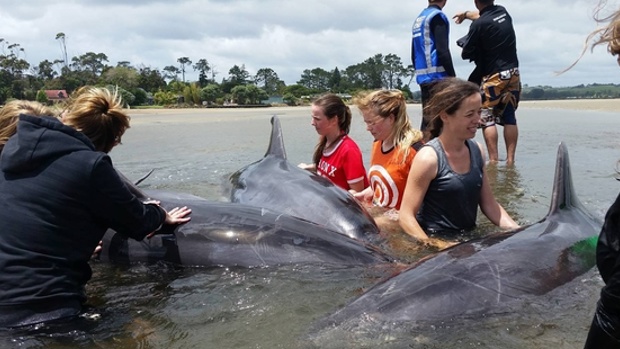 A shortage of fish in the sea might have caused six bottleneck dolphins to become high and almost dry deep inside the Mangawhai estuary at low tide.
The dolphins were spotted by locals around 9am on Sunday, grounded in shallow water a few hundred metres south of the Tara Creek mouth.
Marine animal rescue and protection organisation Project Jonah was notified immediately and several local volunteers from the group joined Department of Conservation staff and Mangawhai Heads Surf Lifesaving Club members, jumping in to help the dolphins. "We contacted a few of our locally based volunteer medics to go along and assess the situation.
The dolphins [had been] grounded, which means they were surrounded by water but unable to move, despite being in the deepest part of the channel," said Daren Grover, general manager of Project Jonah.
It is not unknown but it is rare for dolphins to be that far up the creek, he said. Up to 30 people helped keep them wet and stop them heading further into the estuary. Mr Grover said the dolphins were not in immediate danger but would have been in trouble had they gone into the creek mouth.
With no obvious signs of injury or distress in the dolphins, the best course of action was to wait for the tide to come back in, keeping them wet and behaving calmly around them, Mr Grover said. There was some initial concern about one dolphin which tipped over a couple of times, with a risk of drowning if it was not upright when the tide came back in.
"The dolphins appeared in good health and, once they could move, were able to swim strongly towards deeper water," Mr Grover said.
"Using volunteers in kayaks and wetsuits and a boat from Mangawhai Head Surf Lifesaving Club, we were able to create a barrier to stop the dolphins going further up the creek and then guide them into the deeper harbour water."
The surf lifesaver crew tracked the pod of dolphins and saw them feeding on a school of small fish just off the boat ramp at Alamar Crescent, near the harbour mouth, at about 4pm.
"The dolphins were much more comfortable once they were swimming freely," Project Jonah volunteer Mark Rigby said.