Publish Date

Wednesday, 13 January 2016, 12:23PM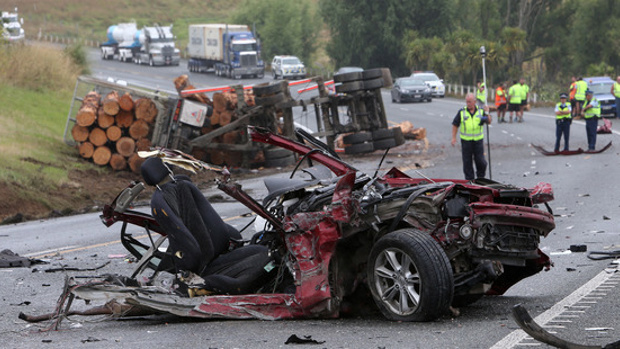 The name of a Whangarei man who became the region's first road fatality of 2016 after the car he was driving smashed into an oncoming fully-laden logging truck and trailer is expected to be released today.
Emergency services rushed to the crash scene on State Highway 1 on Smeatons' Hill in Whangarei, south of Portland Rd junction, about 7.15am yesterday.
Northland police spokeswoman, Sarah Kennett, said the 45-year-old driver of the car was heading north when he appeared to have lost control and crossed the centre line and into the path of the south-bound truck.
The man, believed to be from Whangarei, was the sole occupant and died at the scene while the truck driver was not injured.
Police boosted numbers along Ormandy Rd and Mangakahia Rd about 9am as north-bound traffic build up became heavy. Fire appliances from Whangarei and Portland were called but handed over the scene to police after the fatality was confirmed by St John paramedics.
The logging truck and trailer flipped on their side as a result of the impact while the badly-mangled car lay across the north-bound lane and its parts strewn across both lanes.
Acting road policing manager in Northland, Inspector Wayne Ewers, said regrettably a third motorist has died not far away from Oakleigh where two others lost their lives in the past two months. "It's still that stretch of road and more generally between the Brynderwyn Hills and Whangarei where accidents are happening. Hope it's the last one for Northland," he said.
Ruakaka Fire Brigade station officer, Jeff D'Ath, was one of hundreds of motorists heading into Whangarei who was caught up in the early morning traffic jam. He left home about the same time as the crash happened and was diverted via Mangapai Rd, on to Ormandy Rd, Mangakahia Rd, and back on to SH1. "It took me about 15 minutes more. It wasn't too bad at that time but the build-up of traffic would have got worse later on," he said. When he got back on to SH1 from Mangakahia Rd, Mr D'Ath said north-bound traffic had queued past the Portland Rd turnoff.
Police were expected to release the name of the deceased after his next-of-kin had been informed. The Northland road toll for 2015 was 22, three more than in 2014.