Fire crews devise own cooling pool
Publish Date

Wednesday, 27 January 2016, 1:56PM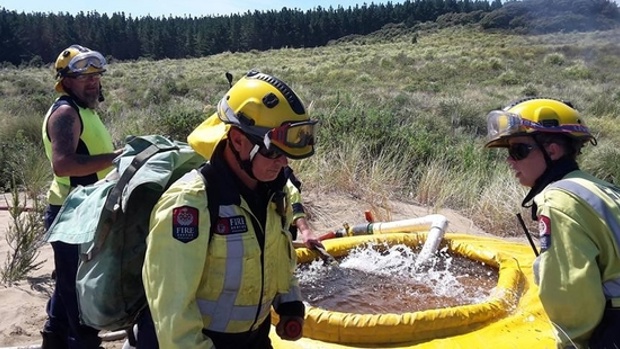 Dargaville volunteer firefighters battling the heat have used a bit of Kiwi ingenuity.
After feeling the heat tackling a suspicious blaze, the crews were also hit by sizzling temperatures as they cleaned their gear.
The solution to the sizzling temperatures was simple - make a swimming pool, firefighters style. Portable dams were filled to the brim and offered some respite.
Deputy chief fire officer Michael Ross said crews were called to a suspicious blaze in scrub and sand dunes at Pouto, only 1km from the historic lighthouse on Pouto Pt, about 3pm on Saturday.
Two helicopters were called to the scene and used monsoon buckets to dump water on the fire while ground crews worked to contain the perimeter.
There were crews from Dargaville, Te Kopuru, Paparoa, Whangarei Heads, Department of Conservation, Forest Protection Services, Pouto Top A Trust and locals who lent a hand.
A bulldozer and digger were also put to use. Mr Ross said the smoke was seen by a motorist on SH16 at Helensville who contacted emergency services as did a boaties on the Kaipara Harbour.
A volunteer firefighter from Te Kopuru, holidaying in Pouto, was quick to grab a spade and prevent the fire from spreading into a large pine tree plantation.

Firefighters used portable dams to pump water from forestry dams to the fire. Mr Ross said it appeared there was one particular place where the fire had started and it was lucky that recent rain had kept undergrowth damp.
"It's not terribly dry at the moment thanks to rain so the fire was slow to develop and spread."
Crews arrived back at Dargaville about 9.30pm on Saturday.
It was on Sunday when the firefighters were again hit by the heat as they cleaned their gear. There was only one thing for it.
"The temperature gauge on my vehicle was showing 28 degrees," Mr Ross said. "The guys were flushing out the pumps and hoses. They filled up the portable dam and got in."