Flying Skip Smashes Into Car
Publish Date

Friday, 20 November 2015, 11:14AM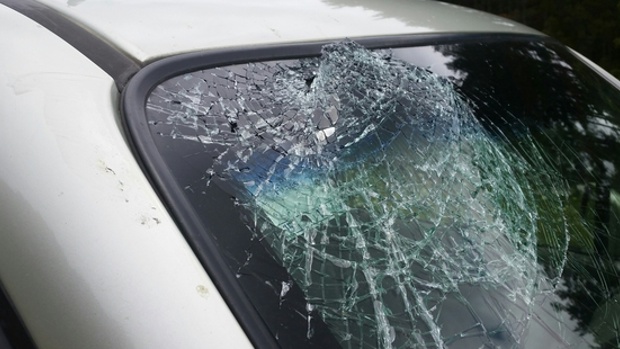 When Dargaville newlyweds Adrian and Maggie Berkhout set off on their honeymoon yesterday the last thing they expected was a death-defying brush with a flying rubbish skip that almost ended their life together.
The couple - together for more than three years - tied the knot in Dargaville on Saturday and were heading to Whangarei just after noon yesterday in separate cars to drop one off at Adrian's daughter's when tragedy was narrowly avoided after the skip hit Adrian's windscreen just centimetres from his face, bounced over the top, hit his rear window, landed on the road and narrowly missed Maggie's car.
"It was just so quick. The bin swung out and I had one eye on the bin and one on the road trying to avoid it. I didn't see it hit Adrian, but when I stopped I saw him walking towards me covered in glass and he was a green colour - that's what gave it away that he had been hit," she said
"When I got closer to his car I saw where it had hit and realised it had got him and was just so thankful he didn't get hurt. It came over the top of him, hit the road in front of me - if I was any closer behind him it would have hit me and and things would have been very different. We were very lucky, but that's what happens when you have a guardian angel looking after you, thank God. It's a big bin and would have caused a lot of damage if it had hit either of us full on."
She said Adrian had bits of glass all over him from where the bin hit his windscreen and her first feeling after the incident was pure relief.
Adrian, who is a support officer with the Dargaville Volunteer Fire Brigade, said firefighters often dealt with road accidents, but he didn't expect to narrowly survive one himself and have some of his bridge mates attend the scene.
"I just saw the skip floating across the deck of the truck in mid-air and I just thought, 'It's all over here, I'm gone'.
"I didn't have time to take evasive action so held onto the steering wheel as it flew towards me and hit the windscreen right above my head, and just inches away from my face."
He stopped and was immediately concerned for Maggie as he did not know if the skip had gone on to hit her.
"I just felt so much relief that it didn't, double relief that I was alright too."
Maggie says Dargaville's deputy station officer Michael Ross, who attended the accident scene joked, that it could have been one of the shortest marriages on record and the couple were counting their blessings that it didn't end in tragedy and they could continue on their honeymoon. They will be in the Bay of Islands today before heading further north.
Northland Waste director Ray Lambert said it appears that a strop snapped. The company is taking the situation seriously and reviewing its systems to ensure it doesn't happen again.
"We are extremely concerned about this and doing everything we can to find out what happened, why it happened and what we can do to ensure it doesn't ever happen again. We are looking at all our systems. It's incredibly lucky nobody was hurt and our thoughts are with the couple," Mr Lambert said.
Police are investigating the incident.