Locals take on big clean-up
Publish Date

Tuesday, 12 January 2016, 11:55AM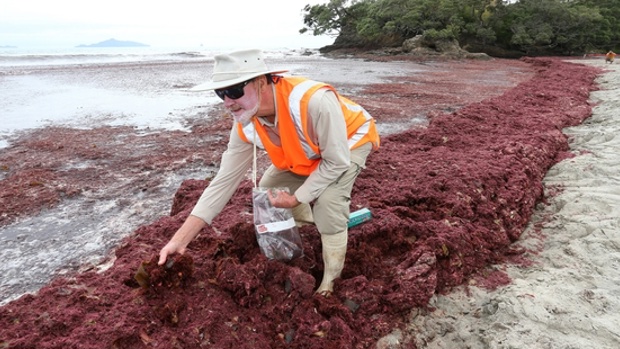 Waipu Cove residents have ripped through the red tape, carting away hundreds of tonnes of smelly red seaweed in an unconsented beach clean-up.
Technically, residents were not allowed to remove the un-swimmable stew of red algae that washed up at the popular swim spot over the weekend, according to Northland Regional Council (NRC) rules, which restrict disturbances of the coastal marine area.
But NRC was turning a blind eye to the efficient effort involving at least seven heavy vehicles and would assess the beach's condition once the volunteers' work was done. "At this stage we haven't considered what, if any, enforcement action to take in the matter," NRC regulatory services manager Colin Dall said.

It would take at least 20 working days to get consent for the work or for council to do the work itself, he said, by which time the weed may have putrefied, as had happened in the past.
Roger King of Waipu Reserve Board was yesterday overseeing seven trucks and diggers driven by local farmers, as they trundled up and down the beach scooping up the algae and transporting it to a nearby paddock. He said "good on [the council] for leaving us to it".
While the current smell was not yet overpowering, Mr King said this would change if the mass was left to rot.
"It's got to be done immediately. Last time we waited for permission for a couple of days and it made it very hard to get it off ... But if it gets bad in the long term then NRC should be taking responsibility."
The "last time" Mr King referred to was in November, when a smaller amount of the seaweed prevented swimming. The current patch was about 400m long and 25m wide.
Camp Waipu owner/operator Anton Trist said a couple of campers had cancelled their bookings as a result of the weed.
Mr Dall said NRC was working towards an overarching consent for removing "nuisance seaweed" so it could legally deal with similar situations in the future: "Currently our regional plan doesn't provide for it."
He said volunteers had been advised on how to carry out the work in a way that would not damage the beach. Mr Dall believed the seaweed was Spyridia filamentosa.
Recent stormy weather "upwelling" nutrients and the El Nino weather pattern may have contributed to the algae's proliferation.
-Northern Advocate