Man puts all his ex-girlfriends in group chat - Success or failure?
Publish Date

Thursday, 31 December 2015, 3:12PM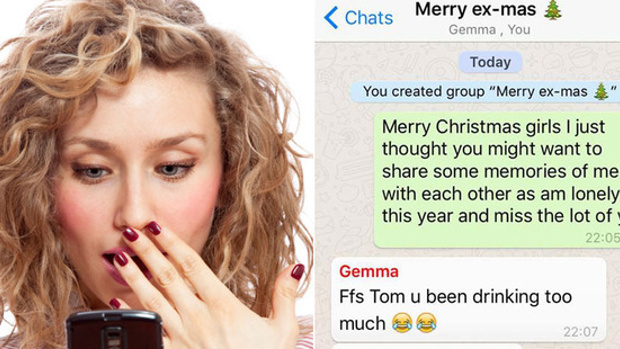 For many men the idea of speaking to just one ex-girlfriend fills them with fear, but one foolhardy Lothario decided to initiate a conversation with four of them - all at the same time.
With a tot of Dutch courage to see his plan through, a British man named Tom decided to send a group message to four of his ex-girlfriends in order to wish them a drunken "Merry EX-mas".
Unsurprisingly the WhatsApp conversation was in turns awkward, hilarious and full of recriminations - but it also featured an unexpected twist which may lead to an unlikely happy ending.
For two of the ex-girlfriends the conversation went down like a lead balloon. One left the conversation in disgust without saying a word.
But one of them found the entire exchange hilarious - and even ended up agreeing to go on a date with brazen Tom.
He began the unusual conversation with a rather cheeky opener: "Merry Christmas girls I just thought you might want to share some memories of me with each other as am lonely this year and miss the lot of ya [sic].
"I just thought I wanna get you all together in a group and say thanks for spending parts of your life with me even if it was a long time or a short time Bella lol."
Ex-girlfriend Gemma wrote back "wow" but Bella was a little more frank in her response: "F*** off Tom, seriously. You really are a f****** disgusting p****."
At that point ex-girlfriend Lisa left the chat without making a comment.
Bella added: "Do you really think this is funny? Putting me in a group with a girl I know you f****** slept with while we were together?!"
At this point ex-girlfriend Steph chimes in: "Ok woah pet think what you want but Tom said you weren't together after the holiday coz you f**** it."
An incensed Bella replies: "We were together 'pet' and Tom just lied to you like he does to everyone. He's a f****** pig."
At this point Tom decides to set the record straight and writes: "Erm no Bella we weren't together coz you went back up to Brid and just f***** me off and I sent you a message saying we were over."
An outraged Bella has clearly had enough and vehemently replies: "ON FACEBOOK WHICH YOU SHOULD HAVE KNOWN I NEVER F****** CHECK YOU P****."
With the entire conversation descending into farce Gemma mentions how hilarious she is finding the exchange, prompting an enraged Bella to direct her wrath at her: "And who the f*** are you!?!?!?"
But an unruffled Gemma replies: "Me n Tom were together in school but we're still mates find ur chill love."
Tom, who is clearly enjoying himself, adds: "I just wanted to wish you all merry Christmas and Bella you've ruined it all again."
After a few more choice swear words on their parts an indignant Bella and Steph leave the conversation, leaving just a tipsy Tom and Gemma in the conversation.
Tom wrote: "Well that went well. How's things Gem? Fancy a drink?"
Gemma replies: "I was a bit s*** until this convo - my nan passed away just before Christmas so I could do with a drink. When you you fancy it? xx."