Maori Santa Comes By Waka, Not Sleigh
Publish Date

Wednesday, 2 December 2015, 9:37AM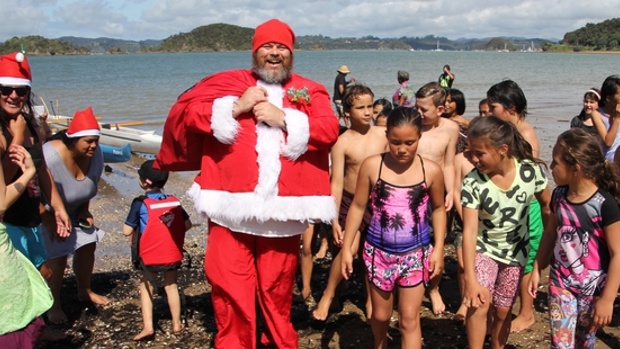 In Northern Europe he arrives on a sleigh drawn by reindeer.
But in Northland snow, reindeer and sleighs are in short supply, so Hana Koko - that's Santa Claus in Maori - has come up with a present distribution system better suited to local conditions.
That's why he arrived at Ti Beach in Waitangi yesterday in a waka paddled by young kaihoe (paddlers) amid cries of Meri Kirihimete! (Merry Christmas!) and Ho Ho Ho! (that's the same in Maori and te reo Pakeha).
Hana Koko even looked different yesterday. He had the same big belly, bushy beard and twinkle in his eyes, but the beard was more black than silver and his normally rosy cheeks had taken on a distinct tan, no doubt the result of time away from the wintry North Pole.
About 80 tamariki from Waitangi and Paihia were waiting on the beach for Hana Koko. He was greeted with a karanga and a slightly chaotic haka, possibly because the kids were more focused on the contents of Hana Koko's bulging sack of presents.
Every kid got a present and a chance to try out the waka or a stand-up paddle board. The barbecue was fired up as well.
The Maori Santa was organised by Rob Cameron, a youth constable with Bay of Islands police, and members of his Waitangi Kaihoe Waka Ama Club.
"We wanted to put a Waitangi spin on Christmas, to celebrate the way we do it over here," he said.
The waka ama (outrigger canoe) club only started this year with a women's team already competing at regional events. The club's main focus, however, is on kids and a partnership with Paihia School.
Mr Cameron said despite living right by the sea some local children had never been on a boat.
Another waka ama club Mr Cameron helped establish at Te Tii, further north, now produces world champion kaihoe and is credited with turning around the lives of once-troubled youth.