UB40 moved by Treaty story
Publish Date

Friday, 8 January 2016, 12:38PM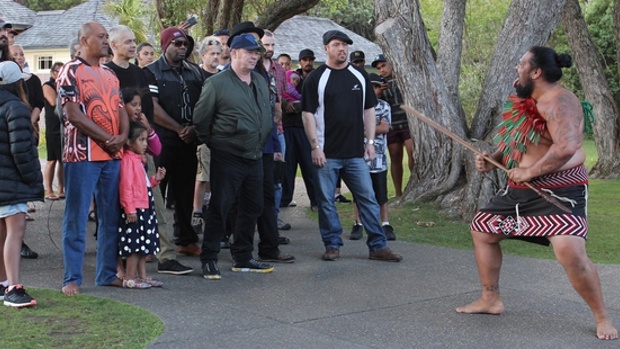 UB40 frontman Ali Campbell was deeply moved to start his tour of New Zealand with a formal welcome at the historic Waitangi Treaty Grounds - and he'd love to come back to play at the Ngapuhi Festival.
Supported by Herbs and Jason Kerrison from Opshop, the British reggae band played to a sell-out crowd of 5000 at Kainui Rd Winery north of Kerikeri last night.
But their first stop was Waitangi on Tuesday evening, where the 30-strong entourage was given a formal welcome by the cultural group Te Pito Whenua.
It was an emotional experience for Campbell, who led the group into the Whare Runanga, the carved meeting house, and accepted the challenge issued by a Maori warrior.
Later, following his response to the speeches of welcome, band members tested the whare's acoustics by singing You Could Meet Somebody as their waiata tautoko.
Campbell said he was moved by the graciousness of the welcome, especially given Waitangi's history.
"Arohanui, big love to you all," he said.



The band had visited to New Zealand many times - this country gave them their first number one, Food for Thought, in 1980 - but had never been north of Auckland.
Campbell told the Advocate he knew nothing of the Treaty until he landed a role on the TV show New Zealand's Got Talent and read up on the country's history. What he learnt left him shocked and ashamed, he said.
"So to be at Waitangi now is very moving, and to be welcomed like that is even more special after reading about the Treaty and what happened. It really moved me."
Growing up as disenfranchised, unemployed youth in Thatcher's Britain - the name UB40 refers to an unemployment benefit form - the band couldn't help but become politicised, he said.
The first thing they did after arriving in New Zealand for the first time in the early 1980s was to join a Springbok Tour demonstration. They also met and became lifelong friends with the equally political Herbs.
"But we don't stand on a soapbox. For us it's mostly about reggae music and love."

- Northern Advocate