UB40 play to sellout crowd, Concertgoers likely to see event repeat
Publish Date

Friday, 8 January 2016, 10:59AM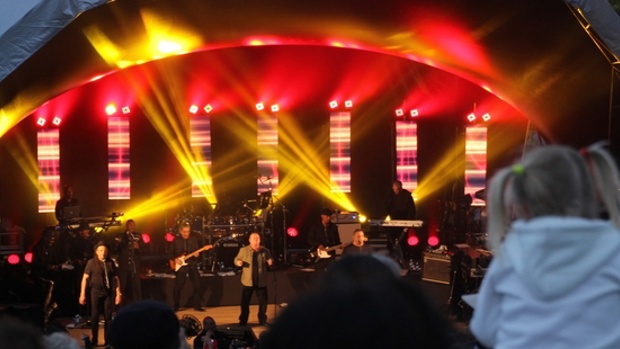 The first major international concert at a Kerikeri winery was such a success it is almost certain to become an annual event, the vineyard's owners say.
English reggae legends UB40 played to a sell-out crowd of 5000 at Kainui Rd Winery on Wednesday night, the first show of their New Zealand tour. They were supported by Herbs, whose members are long-time friends of UB40, and former Opshop frontman Jason Kerrison.
Helen Thompson, who owns the vineyard with her husband Alan, said the success of the concert and the crowd's good behaviour gave them confidence to start planning for next summer. Their resource consent allowed them to host one major concert a year. Mrs Thompson said there were no problems or incidents.
"It was a really happy, pleasant crowd and they really enjoyed themselves. We were really impressed by the way everyone enjoyed themselves but behaved. That makes us quite confident about doing it again next year."
They would do some things differently to avoid long queues at the bar and the toilets - "you can never have too many portaloos" - and would look at opening up the venue and parking areas earlier to spread arrivals over a longer period. People who arrived at the start time faced delays getting in and long lines of traffic, worsened by an accident at Waipapa Landing.
Mrs Thompson said many people left home at 5.15pm for the 5.30pm start, which would not usually be a problem in Kerikeri. However, it meant thousands of concert-goers arrived at once. They will also consider arranging parking in town or the sports complex and providing shuttle buses to the venue.
Feedback from the sound and lighting crews was that the venue, with its natural amphitheatre surrounded by trees and vines, was one of the best they had seen.
Even the weather played ball with the sun putting in an appearance for the last hour of daylight. She was grateful to police and St John for helping make the night a success. The clean-up started at 7am yesterday and was complete by 10.30am.
Mrs Thompson hoped to secure another major international act next year, as a one-off show or part of a national tour. Work was under way to line up a band.