Whangārei pet shop owner appeals for return of stolen animals
Publish Date

Tuesday, 17 July 2018, 1:19PM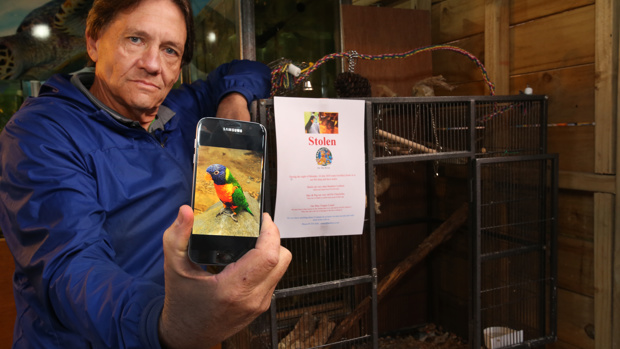 A Northland pet shop owner has made a plea for thieves to return the stolen animals which require special care and diets otherwise they will die.
A back door to pet shop Barkleys on the River, on Port Rd in Whangārei, was smashed overnight with the thieves gaining entry into the main area of the shop where they stole two chinchillas, a rainbow lorikeet and a blue tongue lizard.
Buinsess owner Keith Thompson was upset as the animals needed special care and were put in jeopardy.
"Please don't hurt them even out of ignorance.
"The chinchillas are on medication to control pain due to their age. The lizard needs a heat lamp to keep his body temperature up so he can survive and the lorikeet is on a special liquid diet. They will die if they aren't cared for correctly," Thompson said.

"Just don't hurt them. Leave them in a box and call us so we can collect them. I'd rather they had taken the till but to come in and take these pets."
Chincillas Mac and Peg were about 20 years old and Thompson and his wife had owned them for about 12 years. The pets, that are native to the Andes Mountains of northern Chile, had become a regular feature at the shop and had just moved into a new cage.
For years they had lived in the lounge at Thompson's house but had then made their home at the pet shop.
Each night, they were given medicine to ease arthritic pain.
Hawk the lorikeet was 18 months old and had been at the shop since it opened.

"He would sit on the shoulder of the kids who came to visit. He would be out of the cage in the shop for about 80 per cent of the time."
Last night he would have been easy to catch as he was in his cage. But the colourful bird requires a special liquid diet and does not eat seeds, bread or fruit.
And the lizard required a heat lamp to maintain a body temperature between 28-34 degrees Celsius.
Thompson said the lizard, whch sold for $600, could survive a short time in low temperatures but otherwise required warmer climes.
"It's so upsetting ... you get so used to them just being there," a visibly upset Thompson said.
He suspected some one had been to the shop and taken a liking to the animals and returned to steal them.
About $1500 damage had been done during the burglary.
Police were looking a CCTV footage from the area and were going to take fingerprints.
Thompson, together with wife Carol and daughters Rebekah and Mikayla, started the pet shop venture in Whangarei in January 2017.
The business was a mix of the traditional pet services with more modern services.
It offered a mix of live animals and all the supplies people needed to keep them.
If you know anything please contact the Northland Police on (09)430 4500 or contact Barkleys on the River