Works to ease traffic jams
Publish Date

Wednesday, 13 January 2016, 12:25PM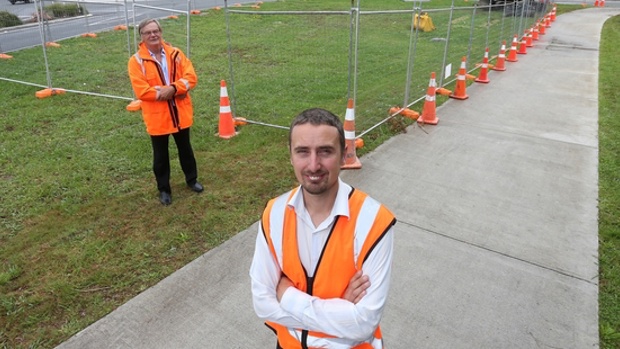 Whangarei commuters stuck in traffic from Onerahi will be relieved to see work under way to relieve congestion on Riverside Drive.
A slip lane is being added to the roundabout at the intersection of Dave Culham and Riverside Drives, allowing Port Rd-bound traffic to turn left over Te Matau O Pohe bridge, parallel to the pre-existing "straight through" lane.
Senior roading engineer Nick Marshall said the extent to which the lane would help was "the million dollar question, or the $350,000 question actually". "It's not a silver bullet. The other thing that's showing is that at some stage in the future we'll need to go to four lanes [at the roundabout]. That's probably about 10 years in the future," he said.
Onerahi-based councillor Brian McLachlan said people turning out of side roads on to Riverside Drive also caused delays, another problem the council was looking at solving. Contractor Transfield Services would aim to have the $354,120 slip-lane project completed by April, which would include widening the pavement, replacing part of the footpath, installing a retaining wall and new guardrail. Contractors would then go on to install the concrete cycle way and footpath along Riverside Drive.
Funded in part by WDC and in part by the NZTA's Cycling and Walking funding, this would eventually include three new clip-on bridges beside the Riverside Dr bridges on that stretch of road.
These would be completed in the next few years. Councillor Greg Martin, who headed WDC's Infrastructure Committee, said people needed to remember that Riverside Drive was a narrow, man-made causeway across mangrove swamps, rivers and tidal inlets that were covered at high tide. "Even though it is far better than the shore road of old days, congestion remains an issue we are continuing to manage," he said.
A slip-lane was outside the scope of 2013's $32 million Te Matau A Pohe bridge project, which saw the roundabout installed.
-Northern Advocate