Ferg's Big Pay Off thanks to Classic Builders
Publish Date

Wednesday, 31 July 2019, 4:09PM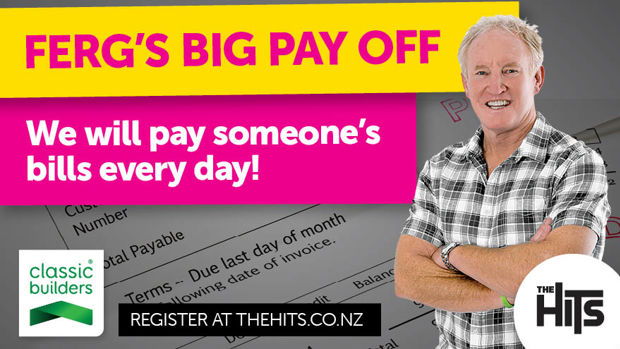 Ferg's Big Pay Off thanks to Classic Builders
Are the winter bills getting you down? 
Register below for Ferg's Big Pay Off thanks to our mates at Classic Builders. It might be that winter electricity bill, that load of firewood, or paying for streaming services you can't live without.
Register your bill now, and listen to Ferg each weekday morning from 6am.
Ferg will pay someone's bills EVERY day!
Thinking of building? While it might seem like a daunting journey, there's nothing more satisfying than designing and building your dream home. And Classic Builders will stand by you every step of the way.
Over the course of more than 23 years, Classic Builders has built a formidable reputation throughout New Zealand as one of the leading and most trusted residential builders in the country. Today, they're the second largest builder in NZ, with seven privately owned branches from Northland to Otago. Their growth and success to date are testament to their unrivalled commitment to their clients throughout the build journey, making their clients' needs a priority every step of the way.
Pioneering the build experience for Kiwi's, their Product Rooms bring the world of choice to their client's fingertips and gives them confidence their choices will result in a home they'll love for years to come. Bringing dreams to life is the heart of what they do, they want to create a quality home that will live and grow with you; a dream they helped bring to life and a place that will hold your fondest memories.
Whether you have an existing plan or need something that's totally designed from scratch, Classic Builders have a team of consultants and architects who are just as passionate about creating your dream home as you are. Their systems and internal processes are second to none, and back-up their promise of a seamless experience for their clients from the moment you meet.
Speak to your local Classic Builders team today about starting your journey into your new home. Design and Build from scratch, choose from over 150 pre-designed plans or select from their range of House and Land packages available throughout Otago.
Talk to Classic Builders on 0508 4 CLASSIC
Visit Classic Builders here www.classicbuilders.co.nz
Like Classic Builders on Facebook here www.facebook.com/classicbuildersnz/
Follow Classic Builders on Instagram here www.instagram.com/classicbuildersnz/
iHeartRadio