Floods close Boat Harbour camping ground
Publish Date

Friday, 3 February 2017, 9:02AM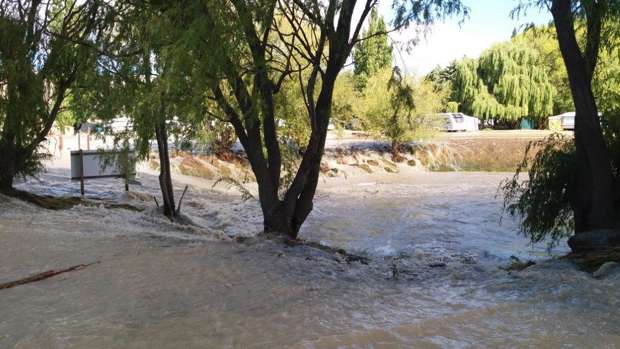 Last Sunday flash flooding near Otematata caused extensive damage to the Boat Harbour camping ground including caravans and tents and resulted in evacuations.
After a period of prolonged rain, the Otematata River rose very quickly with the river breaching the banks and flowing through the camping ground.
Recreation Manager Erik van der Spek says the river has a normal flow of 6-20 cumecs but within 3-4 hours the flow had dramatically increased to 500 cumecs.
"Council contractors were notified by Environment Canterbury (ECan) at 9pm and by 11.30pm had evacuated the Otematata Boat Harbour and checked other camps." 
The depth of water at the camping ground was one metre high and flowing quickly. 
Mayor Gary Kircher said the priority was to protect people and evacuate the camp.
"The river rose so fast there was no chance to move caravans or to notify owners not on site who would have been put at risk that night."
He has praised the efforts of camp managers, Simon Fox and Carson Welsh who quickly swung into action.
"These two men acted very quickly to help with the evacuation and, thanks to their efforts, risk to people's lives was minimised.  I would also like to acknowledge and thank the Otematata Volunteer Fire Brigade and other members of the community who helped that night and the next morning."
Mr van der Spek said approximately 30 caravans and tents were on site with many affected by the flood. "Ahuriri Community Board Chairman Graham Sullivan and local residents also swung into action helping retrieve caravans and cars the following day."
"We're following up with the owners and also working with ECan and NZ Transport Agency to determine what river work is necessary."
The boat ramp has been damaged and the channel out to the lake is full of debris so the camping ground will remain closed until the necessary repairs have been completed.
"We apologise for any inconvenience and sympathise with campers who have lost or have had property damaged."
The five other Council-owned camps (Falstone, Sailors Cutting, Loch Laird, Parsons Rock and Wildlife Reserve) were unaffected and are still available for use.
~ Waitaki District Council