Milestone Reached With Signing of Agreement
Publish Date

Thursday, 25 August 2016, 12:10PM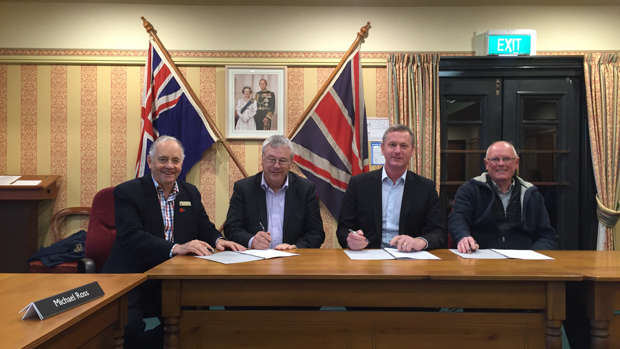 An arrangement between Council, Waste Management NZ Limited and the Waitaki Resource Recovery Trust to provide quality waste disposal and minimisation services once the Oamaru landfill closes has been formalised through the signing of a Memorandum of Understanding (MoU) between the three organisations.
The MoU is part of a two-year project to manage the closure of the landfill, and includes the commissioning of a new refuse transfer station, which is being built in the industrial area of Oamaru's North End by Waste Management.
Assets Group Manager Neil Jorgensen said Council has been working with Waste Management and the Waitaki Resource Recovery Trust to ensure a range of quality, accessible services are available to manage the district's waste and help people minimise their waste.
"The landfill has reached the end of its life, and because developing a new landfill is unaffordable for ratepayers, the new refuse transfer station is the best option for managing our district's waste. The MoU means we can provide a high standard of drop-off services that will complement the range of private kerbside collection services currently operating throughout the district," says Mr Jorgensen. 
Waitaki Resource Recovery Trust Recovery Park Manager, Dave Clare, says the trust provides an essential recycling and waste reduction service and has been working with Council to improve that service once the Oamaru landfill closes.
"We have very good community support for our service and it's important that we continue to improve it," says Mr Clare.  "We have been working with Council for some time now to expand what we can provide so people have a range of options available to them so that, as a community, we rely less on traditional forms of rubbish disposal."
Waste Management spokesperson, Greg Nel, says the company's decision to fund and develop the refuse transfer station is a significant investment in Oamaru.
"We have worked closely with Council to meet the needs of the community.  As the party selected by Council to provide this service, we have formed a constructive working relationship with Council and the Waitaki Resource Recovery Trust to provide a waste disposal service that is fit-for-purpose." 
The new refuse transfer station is scheduled to open in February 2017, when the landfill is due to close.
- Waitaki District Council