Peacock captured and re-homed
Publish Date

Wednesday, 30 November 2016, 8:16AM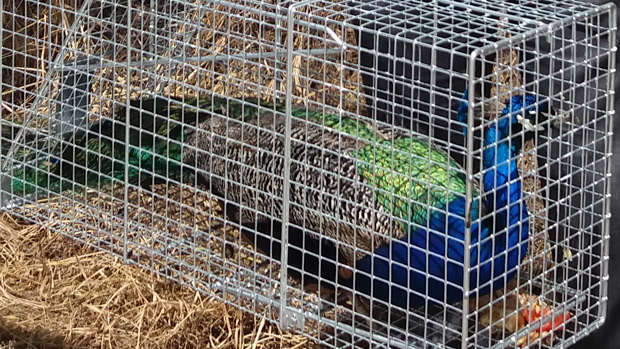 The elusive peacock, known to some as George, which has been living in the South Hill area of Oamaru, has been captured and re-homed.
The peacock has been a source of both annoyance and pleasure for residents – some complaining about the loud noises it has made during the night and others enjoying seeing it around the area.
Regulatory Services Manager Lichelle Guyan says the peacock is likely to have been someone's pet but for some reason has escaped and turned wild.
"Catching a wild animal has presented its challenges but we're pleased we've been able to succeed, thanks to the assistance we received from local residents," says Mrs Guyan.
A specially designed cage to capture large animals, purchased by Council, was moved into the area with the hope that the peacock would be captured.
"Over a period of time a gentleman placed food near the cage to entice the peacock.  After a few days the peacock entered the cage and it was captured.  We have now successfully re-homed the peacock in a rural area."
Council would like to stress that any person who decides to keep a peacock or any poultry must ensure the birds are effectively contained within their property and do not cause a nuisance to any person – a requirement of the Waitaki District General Bylaw.


- Waitaki District Council