Crumble Top Pumpkin Pie - Independence Day Recipe!
Publish Date

Monday, 4 July 2016, 11:46AM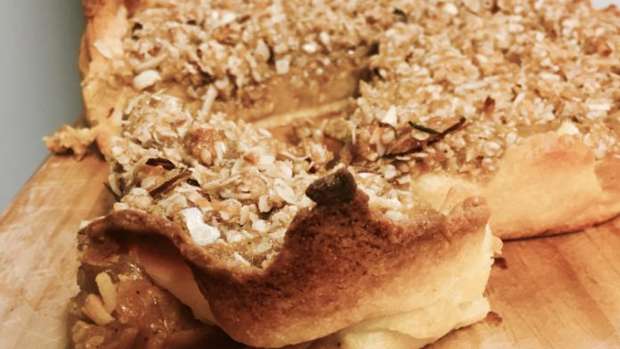 Oh, don't be a big baby.  We were apprehensive too, but we promise it is delicious. 
It's kiiinda like a warm spiced custard.
No weird pumpkin taste at all.
Oh go on, you eat carrot cake, right?
Ingredients:
Crust:
Sweet shortcrust pastry (Liv bought some but swears it's super easy to make yourself)
Filling:
500g chopped raw pumpkin
1/2 cup white sugar (if your sweet tooth isn't huge, halve this)
1/2 cup brown sugar (don't halve this one.  It adds a rich flavour)
1 1/2 cups cream (Liv used blue milk and it worked out fine)
100g butter
4 egg yolks
2 tsp vanilla
1/2 cup flour
1 tsp mixed spice (Liv used Allspice)
1 tsp powdered ginger
1 tsp ground cinnamon
1/2  tsp ground nutmeg (Liv didn't have)
1/4 tsp powdered cloves (Liv didn't have)
Tiiiiiny pinch of chilli powder (omitted out of fear but may have balanced the sugars so will add next time)
Pinch of salt
Crumble:
1/2 cup oats
1/2 cup coconut
1/2 cup ground almonds (Liv didn't have but did have sliced almonds… added extra oats, seemed to do the trick)
1/4 cup brown sugar
100g butter, melted 
Do it:
Line a 26cm-30cm flan or pie dish with baking paper.
Roll out your pastry & bung that in the pan.
Stab it with a fork a bunch of times and stick in the fridge for half an hour.
Preheat the oven to 220C or 200 fan forced
Grab out your pastry, line it with baking paper so there's no exposed pastry put dried beans, rice, lentils, seeds or baking beans if you're fancy on top of the baking paper)
Bake in the oven for about 10 minutes
Remove the baking paper/seeds/rice/beans and bung it back in the oven for 5 mins to brown up the base a bit.
Reduce the oven temperature to 150c (or 160c fan forced)
Whilst it's baking, chuck the pumpkin, cream, butter and sugars in a pot
Simmer till the pumpkin is nice and mushy so you can whisk it all together (about 15-20mins)
Take it off the heat for 5 minutes to cool down a bit
Make your crumble topping by mixing everything together.  Easy.
Back to your filling:
Whisk in the eggs, vanilla and dry ingredients
Fill the pastry with the filling and top with the crumble mix.
Bake at 150c for about 45 minutes, or until the centre is cooked through and everything's golden in Chelsea's words, it shouldn't wobble at all.
Leave to cool in the pan for as long as your self-control can hold on.
We ate it without anything on the side but Chelsea recommends a bit of whipped cream, ice cream or Greek yoghurt which would counter the sweetness nicely.
See the Original recipe here: 
HAPPY 4th OF JULY!
x James & Liv