James & Liv's Heart Of Southland: Cards For Hallee
Publish Date

Monday, 13 June 2016, 9:10AM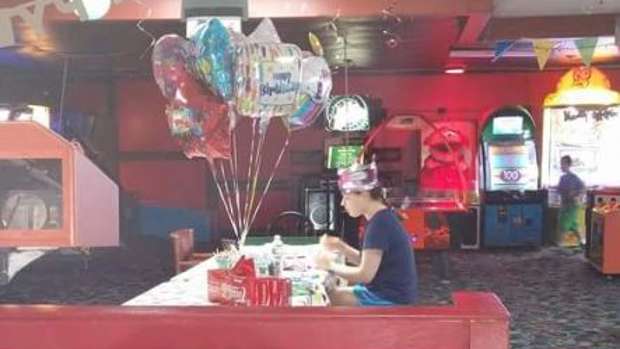 How would you feel spending your 18th birthday surrounded by food, balloons, a big cake and zero friends.
Well, that's what happened to Hallee Sorenson, a "funny, sweet, caring, smart, athlete, jigsaw puzzle champion, a wonderful student, and a best friend to all".
The only difference between Hallee and any other 18 year old?  She has autism.
Yep, that's it.
Her cousin Rebecca Lyn posted on Facebook this heart-breaking photo of Hallee sitting without a soul around her.  We've found out she took the shot from behind a pillar in tears and has devised a plan to make Hallee's 19th birthday special.  Rebecca has said because Hallee will forever have the mind of a child, having her "friends" bail on her big day was hugely devastating for her.
This is where you come in.
When you're doing the groceries this week, we'd love you to chuck a birthday card in your trolley, or get the kids to make a card or draw a picture, write a joyful wee message to Hallee and pop upstairs to the NZME reception, corner of Don & Deveron Streets.  You'll see a blue box labelled "Cards for Hallee".
We'll send your well wishes over to Hallee in the next week in time for her 19th birthday and help let her know she's not alone at all.
Let's prove how big our collective heart is, Southland!