PODCAST: Extra Time - Rotorua Sports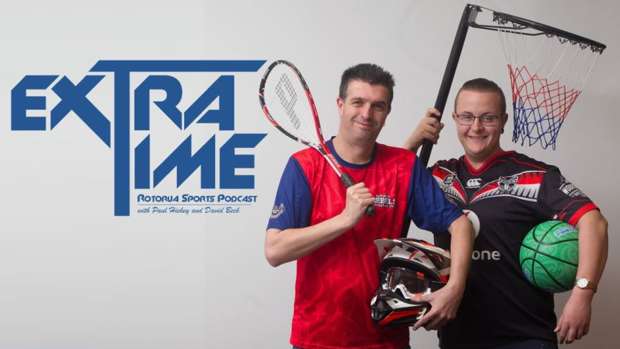 We love our sport, and around Rotorua there are always so many great sports stories to share.  So every week Paul Hickey (The Hits) and David Beck (Daily Post) sit down and talk all things sport.
Welcome to EXTRA TIME, where we get away from the radio and the newspaper for just a little bit more sporting stuff even when you thought the game was done. 
From the Stadium to Puketawhero Park, the Westbrook Courts to Smallbone Park, Events Centre and Sportsdrome to our racetracks and trails, we've got it covered. 
Plus special guests, features, and most weeks we'll probably check out whats big in sport around Aotearoa and the globe too.  Whatever we feel like really, because it is EXTRA TIME and we play to the final whistle, flag and finish line.
Powered by NZME...with new episodes usually online by Friday afternoon.
Many of the stories we discuss can also be read online at http://rotoruadailypost.co.nz
---
EPISODE 1.15 / WED-11-DEC-2019 /On this weeks episode,... we look at the opening of the new Rotorua BMX facility, check the results of another MTB event, and news of a new event coming to town. Plus our biggest local sport story of 2019, before wrap up our Crystal Ball prediction challenge for the year.
PODCAST PIC: Mens race in action at the new world class track in Rotorua. Credit / Stephen Parker
---
EPISODE 1.14 / WED-4-DEC-2019 / On this weeks episode...more changes a foot with junior rugby in the bay, a local mountainbiker wins big at Maori Awards, sevens season underway, and all the usual stuff!
---
EPISODE 1.13 / WED-27-NOV-2019 / On this weeks episode...sad news for rugby star Baden Wardlaw, but it's on the up for a young cricketer. There are changes ahead for the young end of rep rugby, we check out some of the winners from the BOP Sports Awards, and hod did we fare in the 'crystal ball' segment this week?
PODCAST PIC: Sam Cane was named the Bay of Plenty Supreme Award winner at the Bay of Plenty Sports Awards. Photo / File
---
EPISODE 1.12 / WED-20-NOV-2019 / On this weeks episode...Kaleb Trask takes another step in his rugby path, and so do a number of RBHS students. We talk BOP Cricket Semis, Speedway, and the 2TOA Aotearoa Crossfit event.
PODCAST PIC: Podcast Host David Beck in action at the 2TOA Aotearoa Crossfit competition at Lakes Ranch in Rotorua. Photo / Andrew Warner
</ p>
---
EPISODE 1.11 / WED-13-NOV-2019 / On this weeks episode...BMX rider Dion Newth on his successes, and we discuss the new local track. We cover a bit of speedway, a new local world champion, plus blind cricket and an inspiring young swimmer.
PODCAST PIC: Rotorua BMX rider Dion Newth won the North Island BMX men's 45-49 age group title recently. Photo / Andrew Warner
---