Publish Date

Wednesday, 16 October 2019, 9:05AM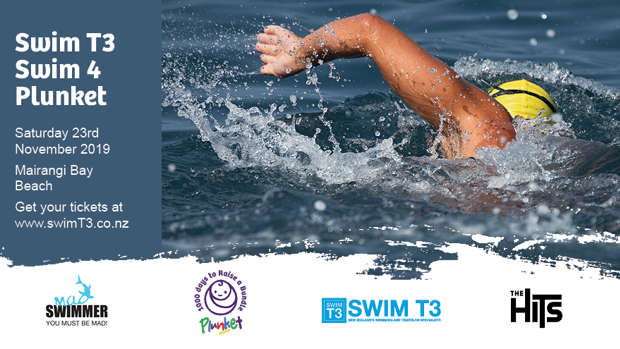 Plunket and Swim T3 bring you the 12 X 1 Mile Ocean Swim Challenge for Charity and The Hits wants to see you there!
From 7am on Saturday 23rd November, Plunket will be swimming one mile on the hour every hour for 12 hours straight.
Plunket will be accommodating SOLO swimmers as well as TEAMS, Skins Swimmers and Wetsuit Swimmers, Young and Fast Swimmers, Old and Not so Fast Swimmers. The Goal is to complete all 12 Miles and raise some funds for Plunket while we do it. Every tough and agonising stroke you take will remind you of how lucky we are to be alive and swimming, while there might be others who aren't as fortunate and need OUR help.
Register now for the mile/s you want to swim. You can swim one mile, two miles, all 12 miles… it's completely up to you.
How can I fundraise?
Register for your swim at www.SwimT3.co.nz. Once you have done that, you will be asked whether or not you wish to set up a fundraising page. Simply click 'yes' and follow the prompts. Set a fundraising goal and share the link with friends and family so they can see what you're doing and support your mission! Make sure you use the hashtag #swim4plunket whenever you post to social media. Happy training and thank you for supporting Plunket!
What if I don't want to swim but I do want to support?
Just head to the Campaign page, www.raiseabundle.org.nz/swim4plunket and click DONATE!
WHERE: Mairangi Bay Beach
WHEN: Saturday 23rd November
TICKETS: From $20, available at www.SwimT3.co.nz
FUNDRAISING: www.raiseabundle.org.nz/swim4plunket
Bring the family and a picnic blanket, soak up the rays, coffee, food and atmosphere. There will also be spot prizes up for grabs!