The Hits Canterbury Cancellations
Publish Date

Monday, 1 March 2021, 1:19PM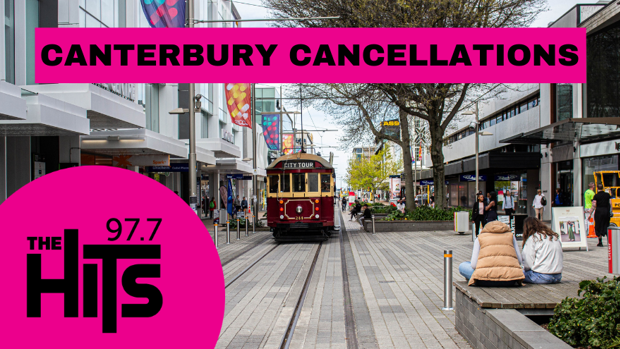 Canterbury Events affected by Covid19 Restrictions.
If your local event has been affected let us know below and we will update the page accordingly.
Streetstock State of Origin & Canterbury Demo Derby Teams Finale @ Woodford Glen
The event has been postponed until further notice.
Amuri A & P Show - Cancelled
It is with great sadness and a heavy heart that we have had to cancel the 2021 Amuri A & P Show. The last time this happened, due to an epidemic, was in 1948. However, so much time and effort goes into organising this fantastic event that the committee has decided to hold a community picnic/BBQ lunch on Sunday 7th March instead. Details of activities and entertainment will become available and advertised on Facebook over the next few days. This will be a low key event in comparison to the usual show, but we hope to pull together a fun-filled event to show our community that we are all in this together. NB this will only go ahead if we go down to level one. All sponsors, entrants, trades, businesses etc will be contacted over the coming week regarding refunds etc. Please bear with us, as this is going to be a huge job for our secretary and treasurer.
Urban Jungle Christchurch - postponed
As soon as we have confirmed our date (which we are hoping will be in March) we will offer refunds for 48 hours.
Selwyn Sounds - rescheduled
Due to the Government's recent announcement on alert level changes and the restrictions on mass gatherings, Selwyn Sounds will be rescheduled to Saturday 10th April. All tickets will be valid for this new date and we look forward to sharing our 5th Anniversary with you. For further information please check the terms and conditions of your ticket or email [email protected]
Holi festival of colour - cancelled
In light of Covid level 2 restrictions and consultation with all our stakeholders, the annual Holi Festival will not be going ahead this year. People can still purchase colours from Māia Foods Christchurch located at 320 Cashel Street, it will provide an opportunity for everyone to celebrate with their close circle of friends and family. We would like to thank all our patrons, volunteers, performers, sponsors and stallholders for their continued support. Next year's Holi will be bigger, brighter and more colourful.
Swannanoa Country Fair - cancelled
The Swannanoa Country Fair has been cancelled. It was due to take place on Sunday, 7th March 2021. "It is simply too risky and we cannot be 100% certain that we would see a return to Level 1 from 6am next Sunday." As Swannanoa School's only fundraiser for the year, this will have a huge impact on the many school projects and learning opportunities for our children that we had hoped to make happen using the funds generated by the Fair. Therefore we are looking at possible options moving forward such as a Plant & Produce sale, a White elephant/Boot sale, Auctions/Mystery Buckets/Raffles etc – elements from the Fair that were more or less organised already and have the capacity to occur as stand-alone fundraisers."
Temuka and Geraldine A&P Show - cancelled
It is with great sadness and disappointment that we have made the extremely hard decision to cancel our show on the 6th. With still being in level 2 we obviously could not hold it on the day and it would be too big of a task to move dates.Thank you to all those of our sponsors, competitors, judges, volunteers and trade sites that have supported us this far. We look forward to seeing you all in 2022 for an even bigger more fun-filled show. To all those who have entered you will be contacted in the next few days to discuss refunds etc, please be patient as this will be a massive job for our secretary.
Silver Ferns vs Australia Constellation Cup - restricted
Games taking place at Christchurch Arena, Christchurch
Tuesday 2 March at 7.15pm, Wednesday 3 March at 7.15pm - now reduced to players/management only.
Armageddon Expo - Postponed
With the move back to Level 2 for Christchurch, we will be unable to hold this coming weekend's planned event at the Christchurch Arena on March 6/7th due to Covid level changes. We will be posting firm details on the event plans on Monday (probably mid-afternoon) and will follow with a live stream Q and A session, but here are a few things we know / are doing. - Confirming new dates with the venue, will NOT be held in March/April though - If you have Tickets, we will be arranging either for refunds or to move them to the new dates (your preference), give us a day or two to set this up though. If you see advertising, we are in the process of removing it, but it;s Sunday so things take time. We will be announcing Wellington (April 17/18th) plans later this week, including guest announcements and show details As always, stay safe out there, this is a delay, but considering where the rest of the world is at, a small price to pay considering most other countries do not have any events to attend.
March Hare Rally - cancelled
It is with great sadness that the 2021 rally has now been cancelled. Due to the current COVID restrictions in NZ we are unable to hold our rally as had been planned for March 5th -7th. To say that we are disappointed that we can't go ahead next weekend, is a huge understatement. We have put so much into the organising it's gutting to be in this situation. Looking ahead to next year we are setting the dates for 4th-6th March 2022 For those of you that have prepaid, your tickets will remain live for the 2022 rally. If you so wish for a refund, we will of course be honouring our refund statement so you have that option. Please be patient as we work through this process. We have looked at a variety of postponement dates, as we have great respect to the other rallies planned for the next months and would never clash with them, unfortunately, we cannot get everything to come together to make this successful. We will be back in 2022 and are committed to bringing you guys a hell of a good time.
National Touch New Zealand Champs - postponed
After consultation with Provinces, the decision has been made to reschedule the 2021 Bunnings National Touch Championship. We will now look to consult with Provinces on a new date with the final decision to be announced 9am Wednesday 3rd March. Until then stay home, stay safe and be kind.
North Canterbury Wine & Food Festival - TBA
Following the news from the Prime Minister, the organisers and senior management team are working together to discuss options for the upcoming festival. We are working really hard with everyone involved and taking advice from relevant agencies to determine what the next steps and actions are. We know these are uncertain times and we ask for all ticket holders and stall holders understanding and patience as we work through options. We will update you as soon as we can.
Court Theatre - Operating under Level two
The Court Theatre will operate at Alert Level 2. This means 'Winding Up' will continue with the successful changes we implemented during the last move to Level 2 that adhered to gathering limits and social distancing. We will be in contact with those patrons with bookings affected as soon as we can to discuss seating and new entry conditions. Our Box Office team will be contacting patrons with bookings for Winding Up on Monday 1 March first and then they will work their way through the week. We will be working hard and as fast as we can to contact those with bookings affected. Operating under Alert Level 2 at The Court Theatre sees the installation of safety protection screens to prevent the spread of the COVID-19 virus. The screens split our auditorium into two zones that cater to up to 100 people each. Each zone has its own entrance and exit, bar, catering and toilets, so patrons can attend the theatre safely. 
Van Gogh Alive Christchurch - restricted
As a result of the New Zealand Government's reintroduction of Level 2 restrictions in Christchurch - Grande Experiences, AKA Australia and Live Nation regret to announce limitations on the number of patrons permitted into Van Gogh Alive during each session  These capacity limitations are in place for all sessions from Sun 28 Feb until such time as the Level 2 restrictions are lifted (currently scheduled for Mon 08 Mar).  Tickets have been sorted in order of purchase in order to ensure an equitable opportunity for patrons. 
VALID Tickets are those that have been purchased up to and including the new reduced capacity. No action is required. Your barcodes remain valid for entry to the purchased session of Van Gogh Alive

INVALID Tickets are those that were purchased above the new reduced capacity. If you have received an SMS or email stating that your tickets are no longer valid - please do not attend Van Gogh Alive. Your barcodes will not scan and staff are unable permit additional patrons inside as this would be in breach of the NZ Government Level 2 capacity restrictions in Christchurch.
What are the rules for social gatherings at Alert Level 2?
Social gatherings can go ahead at Alert Level 2 with up to 100 people in a defined space. You can have guests over to your home, but the 100 person limit applies. This includes people who usually live in your house. Workers providing services to a social gathering are not included in the 100 person limit. 
Social gatherings include:
having guests over to your home

family events

weddings

funerals and tangihanga

religious services

community club and sport activities

private functions like a birthday party or stag do.
Source: New Zealand Government
Event facilities can operate at Alert Level 2
Event facilities can have up to 100 people within any defined space. They also need to assess how many people can safely be inside the premises and still maintain 1 metre physical distancing. This could mean the facility needs to have fewer than 100 people in a defined space.
If you go to an event facility, you legally must keep 1 metre physical distance from people you do not know, where possible — if you cannot, we encourage wearing a face covering.
Event facilities include:
cinemas, theatres, stadiums, concert venues

conference venues

casinos.
Source: New Zealand Government
For more information on alert levels and the latest information visit covid19.govt.nz