The Hits presents BENEE's World Tour - NEW dates added!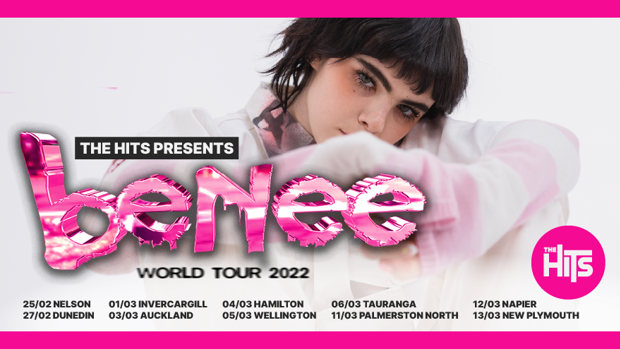 We are so excited to announce BENEE's World Tour!
The Kiwi star has just added three new shows for the New Zealand leg of her world tour before heading to Australia, Europe, UK and North America in 2022
"I am beyond excited to announce that my 2022 WORLD TOUR KICKS OFF IN NZ in feb next year!!!!!!!!!" BENEE says.
"It's been such a long time coming & we've lived through a lot in these weird times but shows starting up again has rly got everyone sosososodo happyyy!!!! I can't wait to get back out there & meet all of u and play a bunch of new musiiiiiicccc!! I AM SO READY TO TOUR!!"
The 24 hour Live Nation pre-sale kicks off on Thursday 25th November at 10am, followed by General tickets are on sale Friday 26th November at 11am. Tickets are available from LiveNation.co.nz.
*NEW NZ SHOWS*
Sunday 27 February 2022 – Dunedin – Town Hall *NEW SHOW*
Thursday 3 March 2022 – Auckland – Town Hall *NEW SHOW*
Saturday 5 March 2022 – Wellington – Anderson Park *NEW SHOW*
FULL NZ TOUR DATES NEW ZEALAND
25 February - Nelson - Trafalgar Center
27 February - Dunedin - Town Hall
1 March - Invercargill - ILT Stadium
3 March - Auckland - Town Hall
4 March - Hamilton - Claudelands Arena
5 March - Wellington - Anderson Park
6 March - Tauranga - Trustpower Baypark Arena
11 March - Palmerston North - Central Energy Trust Arena
12 March - Napier - Pettigrew Arena
13 March - New Plymouth - TSB Stadium
All previous tickets are still valid.