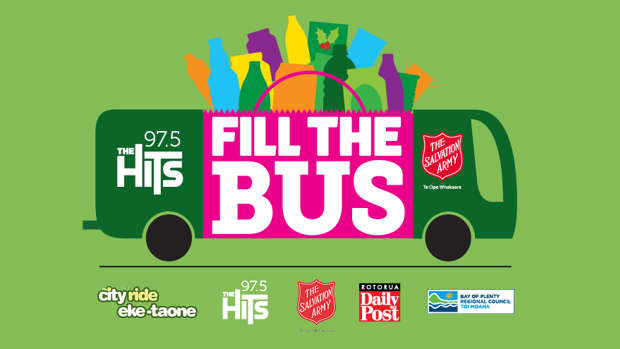 The Hits Rotorua presents FILL THE BUS 2020 for the Salvation Army Foodbank!
For the 6th year, we are planning a full day of travel all over Rotorua.  We'll start the day with a completely empty bus, and our aim is to have it full of food by the end of the day, with all of it being dropped off to the foodbank that night.
Fill The Bus will happen on Wednesday 2 December, and we will need your help.
2020 has been a tough year for many, with record numbers of locals seeking the help of the Salvation Army.  Expectations are that christmas time will exceed these even more.
We will be making stops all over town at shopping centres, supermarkets, carparks, and we need you to come and visit us with your donation.  Whether it is one can, two or ten, every can helps make a difference.  The full itinerary will be release on Friday 27 November.
We're also visiting a lot of schools, and if your workplace would like to organise a collection and have us collect it on the day, email [email protected] to let us know.
Of course it wouldn't be possible without the support of Cityride, Ritchies, and Bay of Plenty Regional Council who all help make it happen with the bus itself.  And our NZME colleagues at Rotorua Daily Post who help out with plenty of publicity in the leadup and on the day.