Lugtons Round The Bridges 2021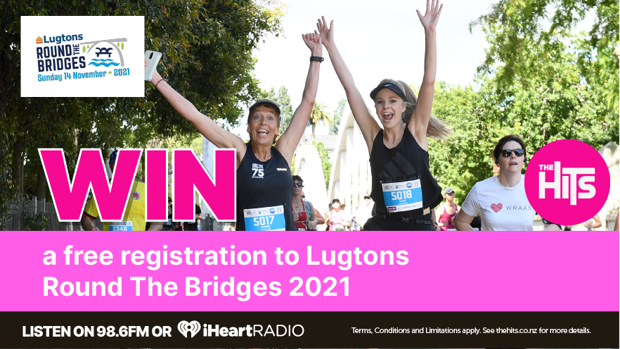 The Hits Waikato is proud to support the return of Lugtons round the Bridges for 2021!
One of the most enjoyable events in the Waikato calendar this is one you do not want to miss! 
Everyones doing it … Are you?   Originally established in 1945…Lugtons Round the Bridges is one of New Zealand's oldest annually fun run events, and a favourite of our community.
No matter your age or fitness level … Lugtons Round the Bridges is for you … With distances for all levels and abilities, what you do is up to you!
Your choices:
Grassroots Trust 1km & 2km Kids Challenge for children aged 7 – 13 years
CBD Events 6km – run, jog or walk
Hamilton City Council 12km – run, jog or walk
Spark Corporate Team Challenge (12km) – for your colleagues to come together and enter a team that represents the workplace.
There will be spots prizes, course entertainment, in Garden Place a kids' entertainment zone, food trucks, amazing finishers medals and the satisfaction in knowing you have smashed your goals!
Grab your friends, family, workmates… this is your chance to enjoy the stunning course running around our CBD, along the river path, through the gardens, in parks and over the bridges. 
Join Hamilton's most iconic event, Lugtons Round the Bridges Sunday 14th November!
enter here now! - www.roundthebridges.co.nz?utm_source=NZME&utm_medium=website&utm_campaign=HITS