The Hits Toy Run 2023 with Vinnies
Publish Date

Monday, 20 November 2023, 5:40PM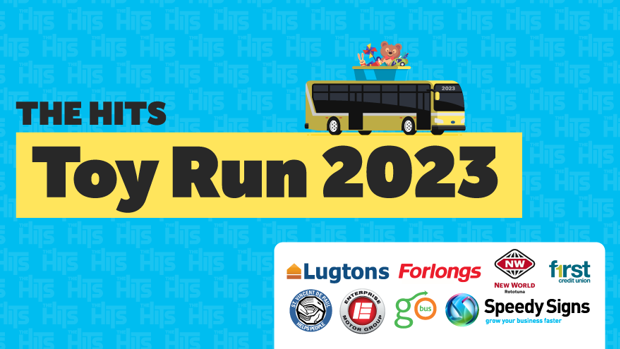 The Hits Toy Run with Vinnies Hamilton is back for 2023 and we need YOUR help! 
Not every kid gets a toy on Christmas Day but thanks to the efforts of Vinnies Hamilton and our amazing sponsors, hundreds of Waikato kids will receive toys this Christmas toys donated by you! If you haven't already start collecting your new or previously loved clean & tidy toys and drop off now to the following locations: 
Drop Off Locations:  
New World Rototuna 44 Horsham Downs Road, Rototuna, Hamilton 3210  
 First Credit Union 111 Collingwood Street, Hamilton Central  
 NZME Hardley Street Whitiora  
 NZME Te Awamutu 97 Sloane Street Te Awamutu  
 Lugton's 1010 Victoria Street  
 Forlongs Furnishings 10 Rawhiti St 
Or you can catch The Hits Toy Run Bus at a town near you next week! 
Bus Stop Timetable:
MORRINSVILLE ST JOSEPH'S PRIMARY SCHOOL 11 LINDEN ST– Monday 27 November, 10.30-11am  
MORRINSVILLE FLEX FITNESS 241 THAMES ST– Monday 27 November, 11.00am-12.00pm  
MATAMATA ISITE 45 BROADWAY–Monday 27 November, 1.00pm - 1.30pm   
CAMBRIDGE GOODWOOD SCHOOL 517 FENCOURT RD– Tuesday 28 November, 10.30am-11am  
CAMBRIDGE ISITE 79 QUEEN ST– Tuesday 28 November, 11.00am-12.00pm  
TE AWAMUTU SAINT PATRICK'S CATHOLIC SCHOOL 625 ALEXANDRA ST– Tuesday 28 November, 12.30pm - 1.00pm  
TE AWAMUTU ISITE 1 GORST AVE– Tuesday 28 November, 1.30pm - 2.00pm
HAMILTON CURIOUS CUBS TRISTAM ST – Wednesday 29 November, 10.30am- 11.00am  
HAMILTON WEST SCHOOL 36 HAMMOND ST– Wednesday 29 November, 11.30am-12.00pm   
HAMILTON ST COLUMBAS SCHOOL 50 RIFLE RANGE RD – Wednesday 29 November, 12.30-1.00pm 
HAMILTON MARIAN SCHOOL 30 BEALE ST- Wednesday 29 November, 1.30-2.00pm  
HAMILTON BUPA ROSSENDALE CARE HOME 2 INSOLL AVE ENDERLEY- Wednesday 29 November, 2.30-3.00pm
HAMILTON GARDEN PLACE BY THE XMAS TREE - Friday 01 December, 10.30am - 11am  
HAMILTON FIRST CREDIT UNION 111 COLLINGWOOD ST-  Friday 01 December, 11.30am - 12.00pm   
HAMILTON LUGTONS 1010 VICTORIA ST– Friday 01 December, 12.30pm - 1.00pm  
HAMILTON SPEEDY SIGNS 1 DEVON RD FRANKTON– Friday 01 December, 1.00pm - 1.30pm  
HAMILTON NEW WORLD ROTOTUNA 44 HORSHAM DOWNS ROAD- Saturday 02 December, 9.30am - 10.00am  
HAMILTON FORLONGS FURNISHINGS 6 RAWHITI ST – Saturday 02 December, 10.30am - 11.00am   
HAMILTON CHRISTMAS PARADE ANGELSEA ST Sunday 03 December, 1.00- 1.45pm 
HUGE thank you to our sponsors for making this possible 
Enterprise Motor Group Hamilton
Take your Radio, Podcasts and Music with you