Lions & Rotary Giant Book Fair!
Publish Date

Tuesday, 3 November 2020, 9:57AM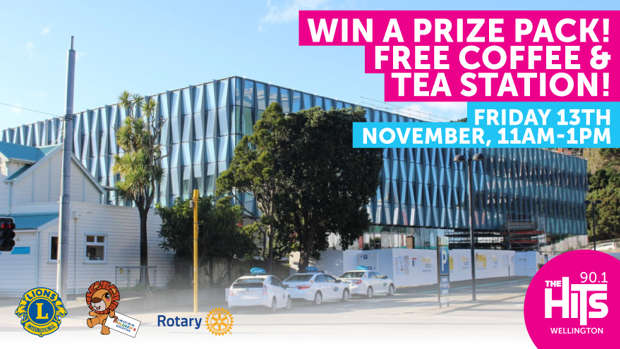 The Hits is thrilled to support the Lions and Rotary giant Book Fair!  
It's all happening on the 12th to 14th of November, to raise funds for the new Wellington Regional Children's Hospital!
Catch up with The Hits on the 13th of November, guess the number of pages in our chosen book and be in to win a prize pack!
With over 50,000 books on offer, grab something new to read and get behind an amazing cause!  
Doors to the Trentham racecourse in Upper Hutt open at 10am each day!
We'll see you there!
Donations can also be made at the Wellington Hospitals Foundation website.
Learn more:
Wellington Children's Hospital Facebook page 
Wellington Hospitals Foundation Facebook page 
More information!:
The Joint Lions and Rotary Book Fair will be selling over 50,000 books donated by the National Library of New Zealand to raise money for the New Wellington Regional Children's Hospital. Booklovers, book dealers, collectors and Wellington Children's Hospital supporters will be able to take their pick from tens of thousands of good quality books over a large range of subjects for a good price and an excellent cause.  Subject areas for overseas published books range from computer science, information and general-works, philosophy, psychology, religion and social science.  
Lions and Rotary are supporters of the New Children's Hospital, and are raising funds to help outfit and equip the New Children's Hospital.  Rotary are funding the interior of two whanau spaces in the new hospital, which includes whanau lounges, a kitchen, play lounge and dining areas.  These spaces will provide a welcome retreat for family and visitors away from the bedside and clinical areas.  Lions are fundraising for the external PlayScape which will be a purpose built, rehabilitative space for children and siblings to play.  With a combined total of almost $1 Million, this is an extraordinary commitment by Rotary and Lions.
Every year as a result of injury or illness, there are over 87,000 visits from children and young people aged between 0-16 to Wellington Regional Children's Hospital.   The hospital has a wide catchment area and sees young patients from across the Greater Wellington region from Whanganui to Napier, down to Nelson and Marlborough.  Sadly the existing children's hospital has long been considered unfit for purpose.  It has inadequate clinical and family spaces, insufficient isolation facilities and it also lacks some basic services such as air conditioning.  Replacement of this hospital was brought forward following Mark Dunajtschik's extraordinary gift of $50 million to build and donate the new hospital. Without Mark's amazing gift a new regional children's hospital would have been many many years away! 
The Wellington Hospitals Foundation is raising the extra $10 million to outfit and equip the interior of the new hospital.   All money raised will be used for furniture and fittings, and all the medical, clinical, patient, family, play and education spaces, for state of the art medical equipment, for a therapeutic gym, for dedicated audiometry suites and for all the high spec digital and creative aspects of the new hospital – which will be brought together with a touch of Weta magic.