UNREAL REAL ESTATE with Eves Realty Tauranga!
Publish Date

Thursday, 5 November 2020, 3:41PM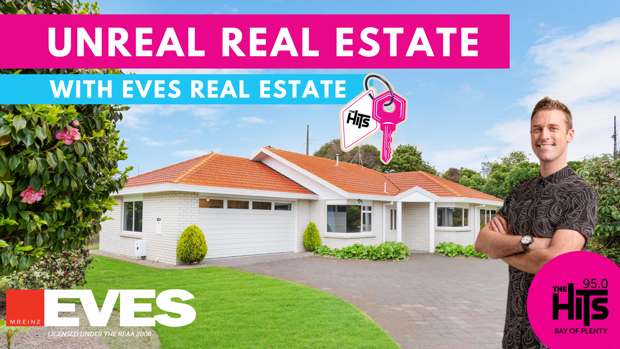 The battle is on! The Hits Tauranga, Waikato and Rotorua present UNREAL Real Estate Twenty Twenty - a battle of the regions to see who can collect and be awarded the most points through the house sale process with EVES Realty. 
Will Johnston from The Hits Tauranga has teamed up with Mark Roy and Katie Burke from Eves Realty Papamoa and throughout the sale process, you have the chance to help Will, Mark and Katie take out the title of UNREAL Real Estate 2020, and be in the running for prizes yourself! 
You, our listeners, will assess Will, Mark and Katie along their journey to help them win the tile of UNREAL Real Estate 2020. By Voting you can help the Tauranga Team win victory and be in the draw to WIN an EPIC prize for yourself! 
Mark was born and bred in Tauranga and has over 13 years successful sales experience in the area, and over five years in real estate. Working alongside one of the areas leading agents has given him the experience needed to excel in the industry and with well over 100 sales achieved ranging from entry level to multi-million dollar properties. He's well known in the Mount Maunganui/Papamoa area and bring a wealth of knowledge and experience to the EVES team in Papamoa where he was attracted by their strong market presence and their backing of a fantastic management team and brand. Their standards and values align with his focus on customer satisfaction, where he has always had a strong following with repeat and referral business over the years. He goes the extra mile to tailor his business to make sure every transaction is unique and memorable. 
Katie comes from a highly successful sales and HR background with a wide variety of business experience. Passionate about people and building solid relationships, honest, professional, determined and friendly, Katie offers her clients attention to detail, along with a high level of commitment and integrity throughout the entire real estate sales process. Being aligned with the reputable and forward-thinking EVES brand adds definite value to the service and overall experience Katie can offer her clients. 
 EVES Exceptional. Every day.