Do you have New Zealand's Best Homemade Hot Cross Bun?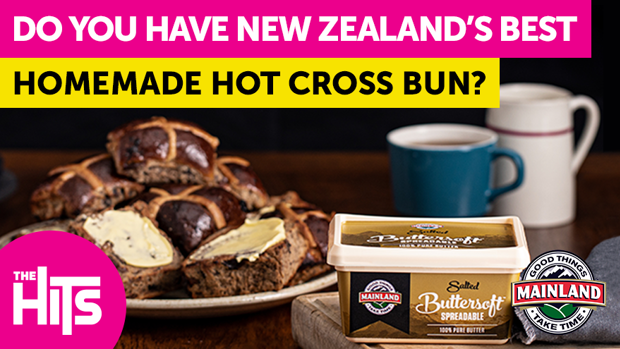 Stace, Mike and Anika are on a quest to find New Zealand's best homemade Hot Cross Bun, all thanks to Mainland Buttersoft.  
At Mainland, you've probably heard us talking about how good things take time.  
You've taken the time to refine your best recipe, so we've taken the extra time to triple churn our Mainland Buttersoft, making it smooth and spreadable straight from the fridge to your hot cross buns. 
So, share your recipe with us – you take a photo and upload it below, or type it up if that's easier. 
 If basking in the glory of being crowned New Zealand's best hot cross bun baker isn't enough for you, then you'll be happy to hear the winner and their famed recipe will be featured in Canvas magazine.  To top it all off, you could also win a year's supply of Mainland Buttersoft and Mainland Cheese, so you can spend the rest of the year baking up a storm. 
Make sure you're listening to the Drive Show. Stace, Mike and Anika will make their top favourites, and from there, 1 person will be crowned New Zealand's best Homemade Hot cross Bun Baker. 
Try Mainland's Buttersoft. Go on, make Easter taste "Butter". 
View terms and conditions here.