The Hits Domestic Duty Free thanks to Joblist
Publish Date

Friday, 10 August 2018, 9:54AM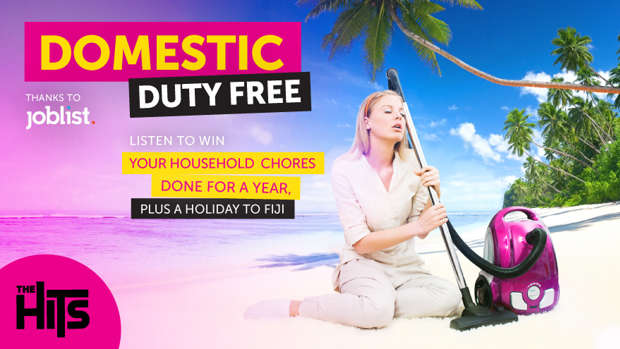 Congratulations to our Domestic Duty Free winner Brooke!
We understand that life is BUSY! And if you are anything like us, you are tired all the time (TATT).
So what if we took care of your household chores for an entire year?!
Listen to The Hits to get in the draw to be Domestic Duty Free - all thanks to Joblist!
We will take care of your chores for an entire year!
PLUS, with all your spare time you will be able to head away on a family holiday to Fiji!
Our lucky listener Brooke won:
1 big spring clean - including a wash down of house and rubbish cleared in a skip bin.
Weekly cleaner for 12 months.
Fortnightly lawn mow and gardener for 12 months.
Weekly clothes wash/ironing for 12 months.
Monthly car wash for 12 months.
A family trip to Fiji with return flights for four and five nights' accommodation.
Free up your time by listing your chores and life admin on www.Joblist.co.nz.
You can list anything, from cleaning to cake baking and everything in between.
Stace and Flynny even found their Mariachi Band for Mexican Monday on Joblist!
It's quick, easy and you'll have more time to spend with family.
Free up your time with Joblist. Get your weekends back.